City of Columbus' Fleet Maintenance Building home to new 640 KW solar panel system installed with TRA's elevated solar racking hardware.
The City of Columbus, Ohio chose to create electricity by installing solar panels on their fleet maintenance facility. The solar general contractor, Premier Power, chose TRA's Elevated Frames and Ballasted Solar Racking Solutions.

The Fleet Maintenance Building, constructed in 2009, incorporated many state-of-the-art enhancements including 150,000 square-foot of space, high-output fluorescent lighting in each of its 77 service bays, updated equipment, an updated efficient HVAC system and is open 24 hours-a-day, seven days-a-week. Settle Muter Electric, the racking installer selected by Premier Power, capped the building off with solar panels on the roof in 2013, creating even more of a "green" focus to this state-of-the-art facility.
Solar panels don't come ready to attach; a system must be designed to secure them to the roof with the goal of creating the optimum ability to gather the sun's rays. TRA, of American Fork, Utah, engineered and manufactured solar racking systems specifically for this unique project. According to Aaron Disbrow of TRA, "The majority of this project is a standing seam metal roof, so they used our standing seam metal solar clamp to attach the elevated frames at the customer's specified angle. There are east/west facing roofs where panels needed to be angled 10 degrees to the south, south facing roofs where the panels were angled 7 degrees with the roof already at 3 degrees, creating a 10 degree net angle, and flat areas around the perimeter in 4 places where we designed a ballasted solar racking system."
Colby Starret, project manager for Settle Muter, was in charge of the flow of materials, scheduling, budget and installation. His experience using the solar racking systems made by TRA was a good one. "The TRA system actually ended up working out very well. We were able to prep it on the ground in 10 foot sections and then craned it up on the roof, attaching sections as we went. We installed the whole system - 640kw, in approximately thirty days." That's a quick turnaround from delivery of materials to completed system.
TRA offers free engineering and support on any project. For this project, TRA obtained the following necessary engineering data that helped them design the perfect system for the job site - roof plan, building height, wind load, snow load, exposure category, and occupancy category. It took a year or two before funding was firmly established for this part of the facility, but once the products were shipped to Columbus, Settle Muter was ready to get the panels installed.
TRA Snow and Sun, Inc., located in American Fork, Utah, offers Roof Snow Retention Devices, Solar Racking Systems and Roof Ventilation and Flashing Solutions. They provide all customers, from the individual homeowner to the big developer, free engineered designs for all their systems. For more information call Jacob Anderson at TRA Snow and Sun at 800-606-8980 or visit www.trasnowandsun.com
SME performs electrical installations and services including: High Voltage, Building Controls and Renewable Energy within all major markets. Their Customers include Universities, Commercial and Medical campuses, Water Treatment and Industrial facilities. With their team of more than 150 professionals, SME provides a hands-on approach, focusing on schedule, budget, craftsmanship and communication.
Featured Product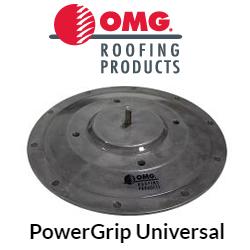 Eliminate Solar Rack Ballast and Reduce Rooftop Material Handling. PowerGrip™ Universal (PGU) is a commercial roof mount system designed to secure solar racks and other equipment to any type of commercial roofing system. PGU provides a secure connection directly to the roof deck or structural members and is designed to reduce or eliminate ballast in solar racking systems, so there's less weight on the roof and less material handling. Made of heavy-duty cast aluminum, PGU units include a base ring which is secured through the roofing cover and into the structural roof deck, and a waterproof top plate.