The report, "Fuel Cell Vehicles", outlines in detail the state of policies and programs that will support FCV deployment and the commercialization plans of major industry players.
BOULDER, Colo.--The market for fuel cell vehicles (FCVs) remains limited, with annual deliveries well under 500 vehicles in 2011 and in 2012. However, the industry is ramping up to commercialization, and much needs to happen behind the scenes for makers of FCVs to meet their 2015 commercialization targets. According to a new report from Navigant Research, after a period of slow growth from 2015 to 2017, annual FCV sales volumes will begin to increase and will surpass two million vehicles annually by 2030.

"Fuel cell vehicles have demonstrated the performance characteristics needed for commercial sales, and manufacturers will continue to improve and optimize the technology," says Lisa Jerram, senior research analyst with Navigant Research. "Fundamentally, FCV technology can provide sufficient range – well over 200 miles on a single tank – and can be integrated into larger vehicle models more effectively than plug-in electric vehicle (PEV) technology."
The biggest challenge for automakers will be reaching sufficient volume to bring down system and balance-of-plant costs—which is leading several automakers, including Daimler, to form technology partnerships. For now, the market is dependent on infrastructure deployment, as cars will not be introduced without readily available fueling. The transit bus market also needs high volume to bring down costs. Europe continues to lead on fuel cell bus deployments, but annual orders are still well under 100, and manufacturers need to reach at least 100 orders annually to see major cost reductions. Given the length of time it takes for stations to be built, the early commercial stage for FCVs (2015-2017) will see a slow rollout of vehicles.
The report, "Fuel Cell Vehicles", outlines in detail the state of policies and programs that will support FCV deployment and the commercialization plans of major industry players. It examines the state of technology in reaching application cost targets for cars, buses and scooters, and profiles innovative startups that could disrupt the market. Additionally, the report details conditions in three major emerging bus markets (Brazil, China, and India) and provides a long-term forecast for fuel cell light-duty vehicles, buses and scooters, segmented by region, through 2030. An Executive Summary of the report is available for free download on the Navigant Research website.
About Navigant Research
Navigant Research, the dedicated research arm of Navigant, provides market research and benchmarking services for rapidly changing and often highly regulated industries. In the energy sector, Navigant Research focuses on in-depth analysis and reporting about global clean technology markets. The team's research methodology combines supply-side industry analysis, end-user primary research and demand assessment, and deep examination of technology trends to provide a comprehensive view of the Smart Energy, Smart Utilities, Smart Transportation, Smart Industry, and Smart Buildings sectors. Additional information about Navigant Research can be found at www.navigantresearch.com.
About Navigant
Navigant (NYSE: NCI) is a specialized, global expert services firm dedicated to assisting clients in creating and protecting value in the face of critical business risks and opportunities. Through senior level engagement with clients, Navigant professionals combine technical expertise in Disputes and Investigations, Economics, Financial Advisory and Management Consulting, with business pragmatism in the highly regulated Construction, Energy, Financial Services and Healthcare industries to support clients in addressing their most critical business needs. More information about Navigant can be found at www.navigant.com.
Featured Product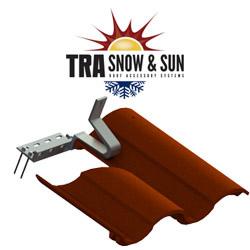 You haven't installed a tile mount that is easier to install than the Solar Tile Mount manufactured by TRA Snow and Sun. Solar Tile Mount is used on all tile roof profiles: flat, mid, and high. It is made in the USA of aluminum alloy for strength and excellent corrosion resistance. Solar Tile Mount is built to allow more ease in installation with more rise from the tile surface to the rail for better air flow below panels. The adjustable base is longer than most allowing attachment 6" to the left or right to have the bracket in the base of the pan of the tile and still fasten to the rafter. Solar Tile Mount is adjustable for counter batten systems from ¾" to 3". The horizontal rail is directly above base fasteners giving greater uplift resistance than any other system. For superior waterproofing apply TRA Snow and Sun's butyl backed VersaFlash aluminum flashing. No tile flashing is needed on top of the tile for greater labor and material cost savings.