Inverter helps PV installers, operators comply with state, jurisdiction code adoption
Portage, Ind. (May 29, 2013) – The Fronius IG Plus Advanced inverter line from Fronius USA is the answer for photovoltaic (PV) system installers and operators that need to meet the series arc fault protection requirements of the 2011 edition of the National Electrical Code®. Launched in March 2013, the Fronius IG Plus Advanced inverter line has proprietary built-in arc fault circuit interruption (AFCI) to detect and extinguish an arc fault, along with the ability to notify the system owner that the incident occurred. The installer can then check the system for the cause of the arc fault, complete necessary repairs and reset the inverter so it can continue monitoring. In addition to increasing safety by preventing a potentially dangerous situation for the PV system operator, the Fronius IG Plus Advanced inverter line maximizes system uptime by preventing component damage and replacement.

"The Fronius IG Plus Advanced inverter line is just another example of Fronius USA's commitment to safety for system owners and installers, while at the same time reducing PV system downtime and maximizing energy yield," Enzendorfer said.
An arc fault typically occurs due to the mechanical failure of interconnects, conductor deterioration, terminal damage or loose wiring. The result is a substantial release of energy, which can cause a fire. NEC 2011 requires detection and interruption of "arcing faults resulting from a failure in the intended continuity of a conductor, connection, module, or other system component." (NEC 2011 Section 690.11)
In addition to AFCI protection, the Fronius IG Plus Advanced inverter line comes with advanced features for smart grid integration, including multiple power stage MIX Technology with Power on Demand and built-in redundancy;
Com Card for data communications; and an active "smart cooling" system.
For more information about the Fronius IG Plus Advanced inverter line with AFCI protection, contact Fronius USA at 219-734-5500 or solar-tsn-usa@fronius.com.
About Fronius USA Solar Electronics Division
Fronius USA, LLC Solar Electronics Division, is the North American sales, support and distribution center for Fronius International GmbH, headquartered in Wels, Austria. Specializing in energy conversion technologies, Fronius has more than 65 years of experience and employs more than 3,000 people globally. For more information, visit fronius-usa.com.
Featured Product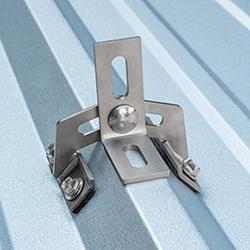 Error-Proof Compression: The QB2 doesn't leave any room for user error when it comes to Microflashing® compression. Once the Dual Drive Shoulder Screw is secured, the Microflashing® is compressed. Only 3 Components: The QB2 is comprised of Microflashing®, an L-foot and a Dual Drive Shoulder Screw. No more Nuts needed to tighten and secure the L-foot! Not only does this simplify the installation process, it also cuts down the installation time.