Optimal power output, up to 25% higher efficiency and fast installation benefits now available for commercial applications
Dublin (Georgia), May 28, 2013. – MAGE SOLAR, a turn-key provider of optimally coordinated solar PV solutions, announced today its 208V compatible version of the company's trendsetting, best-in-class 245 W ACPV module is available for shipping.

Last year, the company garnered much attention by introducing a 240V single-phase MAGE POWERTEC PLUS ACPV module with an industry-leading 30 year warranty on both the module's power production and the microinverter. While this was a plug and play solution mostly for the residential and small commercial market, the latest module version makes all the benefits of ACPV technology also available for 208 voltage systems.
The 60-cell polycrystalline module has a peak efficiency of 95.7 percent and a maximum power output of 240 watts AC. Its innovative design integrates multiple components while functioning as a single package outfitted with insulated AC cabling and equipment ground. The panel's secure plug-and-play technology allows for a 30% faster installation plus the ability to create clean solar energy almost anywhere.
With the ability to generate power even around shaded areas or on complex rooftops, MAGE SOLAR ACPV systems can reliably produce up to 25% more energy than traditional PV-arrays. Additionally, all top-performing, premium quality MAGE POWERTEC PLUS modules feature positive 5 watt tolerances, and the company's signature 30-year 80% power guarantee. All MAGE SOLAR ACPV modules also carry a 30-year warranty on the microinverter component as well, making it one of the safest, most reliable, and longest lasting solutions on the market.
"Introducing the benefits of ACPV to commercial 3-phase projects is another example of MAGE SOLAR as a provider of top-quality PV technology," Joe Thomas, MAGE SOLAR's CEO and President comments. "This is one of the easiest and safest to install modules in the market, backed with an amazing 30-year warranty so installers and end-users can rely on our top-notch quality for many decades. Introducing the ACPV module technology to commercial jobs also will change the game how business owners can think about solar amortization."
The new 208V version module is assembled in the US at MAGE SOLAR's production facility in Georgia. Fully ARRA-compliant, the new module is also ETL certified to UL 1741 and available immediately to customers everywhere. Included is also a web-based management system for 24/7 real-time performance monitoring.
MAGE SOLAR – The Sun on Your Side
MAGE SOLAR USA, headquartered in Dublin, Georgia, specializes in complete solar systems and provides high-quality photovoltaic modules, intelligent mounting systems and high-performance brand inverters. As a subsidiary of the international MAGE GROUP, it uses the Group's 40 years of know-how to develop optimally coordinated system solutions. A competent partner network guarantees profitable solar energy systems for customers throughout the Americas and in 21 more countries in Europe, Asia, Africa, and Australia. In 2012, the company generated U$270 mio in sales with around 500 employees.
www.magesolar.com
www.linkedin.com/company/mage-solar-projects-inc
www.facebook.com/magesolar
www.twitter.com/mage_solar
Featured Product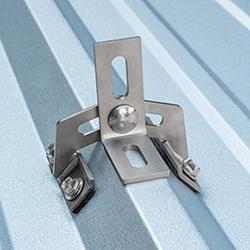 They have been changing the game for 10 years with their original Top Mount line for Asphalt Shingle roofs, and by now supplying one of the widest ranges of solar mounts in North America. From their patented products, to the custom production services they offer, QuickBOLT has been working with solar installers for nearly a decade to make solar installations easier than ever before.