More than 27,000 riders pass through solar electricity-powered stations during opening week
SALT LAKE CITY, May 30, 2013 -- Enphase Energy, Inc. (NASDAQ: ENPH), today announced that Sunlight Solar has completed a 68kW solar project on four UTA Airport TRAX stations from downtown North Temple Street to Salt Lake City International Airport. Each station rooftop has 72 Enphase® Microinverters and generates enough power to fully operate all functions of the stop, including lighting, ticket machines and electrical outlets. The project is estimated to generate 90,000 kW hours of electricity annually.

"We are proud to partner with Sunlight Solar, and pleased to offer the Enphase Microinverter System to energize a Light Rail transit system supporting a major international airport," said Paul Nahi, CEO of Enphase Energy. "Having provided our microinverter system to Sunlight Solar since 2008, we are excited to see Sunlight expand into commercial projects and look forward to participating in their future success.
During the first week of operation, approximately 27,000 passengers boarded the Green Line extension that now ends at Salt Lake City International Airport, according to the Utah Transit Authority. Passengers at North Temple Bridge/Guadalupe, Jackson/Euclid, Fairpark and 1940 W. North Temple stations can observe total solar energy generation on 32" outdoor screens set to display the Enphase Enlighten monitoring website.
"We continue to choose the Enphase microinverter system for its performance, safety and monitoring software," said Marc Staker, project manager at Sunlight Solar. "Safety was a primary concern for this project given the amount of passengers who will have access to the stations and having the AC come off the roof instead of high voltage DC lines was key in decreasing risk."
"UTA also required an accurate monitoring system to display to the public how much power the solar system is providing and saving," added Staker.
To view the solar energy generation and savings at the downtown Salt Lake City UTA Airport TRAX visit the Utah Transit Authority website.
The Enphase Microinverter System offers a new approach to the installation, operation and maintenance of solar energy systems. Enphase Microinverters, the Envoy Communications Gateway and Enlighten web-based monitoring and analysis software work together to deliver increased energy harvest and unparalleled solar system intelligence. To date, Enphase has shipped over 3.3 million microinverters and is selling into eleven countries across Europe, North America and Asia Pacific.
About Sunlight Solar Systems
Sunlight Solar Systems is a fully licensed Electrical Contractor (S200) with 20 years of experience in all phases of electrical construction, including commercial, industrial, residential projects. We are also a NABCEP-Certified Solar Photovoltaic Contractor (S202) for the analysis, design and installation of solar photovoltaic systems that qualify for tax incentives. Whether we are working on a small residential, or a large commercial system, we take pride in every project. We understand what our customers want, work within their budget, custom design every system and provide lifetime assistance. http://sunlightsolar.pro/
About Enphase Energy, Inc.
Enphase Energy delivers microinverter technology for the solar industry that increases energy production, simplifies design and installation, improves system uptime and reliability, reduces fire safety risk and provides a platform for intelligent energy management. Our semiconductor-based microinverter system converts energy at the individual solar module level and brings a systems-based, high technology approach to solar energy generation. Connect with Enphase on Facebook and follow us on Twitter. www.enphase.com
Featured Product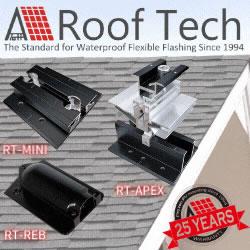 Now Roof Tech brings you the most innovative, watertight mounting systems ever developed for solar photovoltaic systems. Designed and manufactured exclusively for us by Japan's longtime leader in roofing technologies, Roof Tech products are 100% code-compliant and offer fast, simple installation and huge savings on shipping costs due to their compact, rail-less design. Learn more about our full line of versatile PV mounting solutions now available for residential installations. The next generation in rooftop solar mounting solutions."