Home is first in Akron under Company's national partnership with YouthBuild USA
VALLEY FORGE, Pa.--Saint-Gobain, the world's largest building materials company, in partnership with Akron Summit Community Action, Inc. (YouthBuild Akron) announces the completed renovation of 887 Garfield Street, the first home in Akron expected to achieve the U.S. Green Building Council's (USGBC) Leadership in Energy and Environmental Design (LEED®) Platinum certification. YouthBuild Akron trainees and the Saint-Gobain Corporation Foundation transformed the property into a model of affordable, sustainable urban living in 16 months, and today distinguished guests will recognize the trainees' accomplishment in a ceremonial ribbon-cutting.

The Garfield Street home is the first completed project in Akron under the three-year national partnership between the Saint-Gobain Corporation Foundation and YouthBuild USA in support of the non-profit's national green building and job training program. The program provides at-risk youth with the opportunity to build energy-efficient and healthy homes in their neighborhoods, and trainees gain green job skills while earning their GEDs. The partnership with the Saint-Gobain Corporation Foundation is a first of its kind for YouthBuild Akron and YouthBuild USA nationally.
Most notably, the home will be the first home in Akron to receive LEED Platinum certification (expected later this Spring), and will be only the seventh home in the state of Ohio to receive the prestigious designation. Receiving LEED Platinum certification will be a first-time distinction for both YouthBuild Akron and the property owner Akron Metropolitan Housing Authority (AMHA).
"Partnering with Saint-Gobain, an organization that shares our passion for green building and our trainees' professional development, has taken this project from good to great," said Malcolm Costa, President and CEO of Akron Summit Community Action, Inc. "Rebuilding a home to LEED Platinum standards is an ambitious goal for any builder, but in the spirit of true partnership, Saint-Gobain made it possible for our trainees to earn the most prestigious level of sustainable building certification – a rewarding learning experience that will prove invaluable to our trainees as they enter Akron's green workforce."
The Saint-Gobain family of companies, led by CertainTeed, the company's building materials division, provided a range of energy-efficient building products for the project. In addition, Saint-Gobain employees from several key business units headquartered in Akron donated many hours to educate the trainees and support the home's completion. CertainTeed's industry-leading building scientists played an especially valuable role as they advised the trainees and other YouthBuild Akron partners on the use of energy-efficient product technology and passive strategies to build a sustainable, affordable home.
John Crowe, President and CEO of Saint-Gobain and CertainTeed, said, "With over 1,000 employees throughout the Akron-Cleveland region, it's more important than ever that we channel the strength of our employees and the innovative building products they've created to help Akronites live sustainably while also contributing to the city's future green workforce."
Beyond providing green job skills, this partnership begins to fill the need for affordable and energy-efficient housing in Akron. Mayor Donald L. Plusquellic said, "Building the city's first LEED Platinum home is a history-making accomplishment and it has set a new precedent for energy-efficiency in Akron. By leveraging the collective talents and expertise of the private sector in partnership with the non-profit sector, we have proven that homes can be both efficient and affordable."
Akron Summit Community Action, Inc. Board and staff, with assistance from Mayor Plusquellic and the City of Akron, County Executive Russ Pry, AMHA and other community partners and funders, have invested countless hours and over $1 million in resources to YouthBuild Akron since its inception in 2002. "We are pleased to provide trainees with the opportunity to use green building techniques as they return some of this investment to the community by renovating an energy-efficient home for a low-income, working family," said Robert Dowdell, Director of Youth Services, Akron Summit Community Action, Inc. (YouthBuild Akron). "We anticipate that these skills will make trainees more marketable as they seek employment in the skilled trades."
In addition to its expected LEED Platinum certification, the home has secured an additional efficiency certification from Energy Star® Water Management System. The home was also tested in accordance with the Home Energy Rating System (HERS) Index, a nationally recognized scoring system for measuring a home's energy performance. According to the Index, the Garfield Street home received an exceptional HERS score of 65 that suggests the home is 35 percent more energy efficient than a standard new home.
Products selected to help YouthBuild Akron achieve its energy efficiency, sustainability and affordability goals include:
CertaSpray® Closed Cell Foam from CertainTeed®
*Foam insulation is spray-applied into open wall cavities and ceilings to deliver greater efficiency, moisture management, sound control, structural integrity and improved indoor air quality
*As an all-in-one insulation air sealing system, CertaSpray foam insulation is designed to solve extreme insulation requirements – ideal for Akron's cold climate
*A high R-Value minimizes hot and cold spots in a home to improve efficiency and comfort
*As a secondary moisture vapor barrier, it helps reduce the risk of moisture intrusion in the wall cavity
Saint-Gobain's Grenite® Engineered Stone Countertops
*Have the highest post-consumer recycled content currently available in the market – up to 85 percent
*Manufactured locally in nearby Ravenna, Ohio
Additional products used inside the Garfield Street home to enhance the indoor environmental quality (IEQ), include:
CertainTeed® Moisture & Mold Resistant Gypsum Board with M2Tech®
*Specially engineered to provide enhanced protection against mold growth helps contribute to a healthier indoor environment
CertainTeed® Type X Gypsum Board
*Features a specially formulated core providing fire resistance ratings when used in tested assemblies
*Uniform high-strength cores eliminate crumbling and cracking
*Edge tapers consistent to form perfect joints
Easi-Lite™ ˝ inch Gypsum Board for Ceilings & Walls from CertainTeed®
*Up to 30 percent lighter than standard gypsum boards
*Can be used for both interior ceilings and walls
*Lightweight design enables quicker and easier installation, reducing strain and fatigue
*Designed with sag resistance and ideal for 1⁄2-inch ceiling applications, allowing for one board type to be used on the interior walls or ceilings
AirRenew® Gypsum Board from CertainTeed®
*Designed to offer a healthier living and working environment by improving indoor air quality
*Features industry-only technology that removes VOCs from the air and converts them into safe inert compounds; once they are captured in the board, they cannot be released back into the air
*The board also features M2Tech® technology, which helps improve indoor air quality by providing enhanced moisture and mold resistance
While the environment inside the home is essential, the YouthBuild Akron team also wanted to ensure the house was attractive. To help in this effort, the team turned to solutions from CertainTeed that are both sustainable and aesthetic, including:
CertaWrap™ Weather Resistant Barrier
*Adds a layer of protection against air and moisture damage
Landmark Solaris™ Solar Reflective Roofing Shingles from CertainTeed®
*Steep-slope, solar reflective asphalt roofing shingle that contains advanced colored granules that reflect the sun's rays and can reduce a roof's temperature by as much as 20 percent in the summer
*Combines the traditional beauty of asphalt shingles with the ecological benefits of cool-roof technology
Other products used throughout the building process come from Saint-Gobain's Norton brand and are part of its DIY and Contractor line of abrasive products:
*Norton Wall Sanding Paper in 4-3/16 x 11Ľ-inch size in 80, 100 and 120 grits
*Norton Wall Sanding Sponge, used for professional paint and drywall preparation
*Norton 8-inch Continuous Rim Blades, used for smooth cutting of ceramic tiles, marble and other hard materials
The project was completed in collaboration with YouthBuild Akron, AMHA, and the Saint-Gobain family of companies, with building and design support from New Leaf Home Design (architect); Learn About Green (sustainability consultant); Crasi Co. (home builder); and Jeanne Marie Hartman, Ph. D. (landscape architect). In March 2013, the sustainable home was leased to a low- to moderate-income family that was pre-qualified by the AMHA in accordance with its requirements.
The Saint-Gobain Corporation Foundation's partnership with YouthBuild USA also supports green home renovation projects in three other communities, including: Philadelphia; Worcester, Mass.; and Schenectady, N.Y. Each of the four YouthBuild programs that are part of the partnership with Saint-Gobain, including Akron, will receive a total of $100,000 in pass-through grants over three years (partnership is currently in year three).
YouthBuild Akron has operated seven training cycles with 164 trainees enrolled and 121 graduates. YouthBuild Akron has helped 81 young men and women earn a GED, 77 achieve certification from the National Center for Construction Education and Research, 65 obtain employment and 33 enter post-secondary education
Featured Product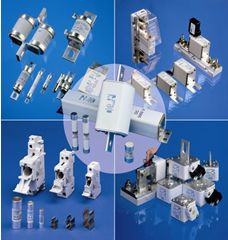 SIBA Fuses: your trusted source for all your circuit protection applications, from solar power to wind power. We are the world leaders in these applications and the most trusted name for your circuit protection needs. We have been working for over 70 years in semiconductor fuses, including ULTRA RAPID®, medium, and high voltage, standard European, miniatures, electronic fuses, and a wide range of DC rated fuses (24 VDC - 5000 VDC) for all types applications. We work with medium and high voltage fuses for protection of transformers, including submersibles, motors, medium and high voltage switchgear, compact substations, cable feeders, and high voltage capacitor circuits. New: Full line of PV UL Listed fuses and fuse holders. Contact us today for more information on our products and services.