3D-Micromac launches an innovative production system
Chemnitz, 03 June 2013. This June, 3D-Micromac from Chemnitz (Germany) will launch the first production equipment worldwide that can conduct the integrated series-connection of a thin-film solar module on one single platform and in one single production step. The new One-Stop-Patterning process (OSP) only structures the modules once all of the functional layers have been deposited on the substrate. This significantly simplifies the production process. In addition, the new process prevents inaccuracies, which are caused when the substrate is positioned and aligned on different tables – an improvement which increases the efficiency of a thin-film module by up to 0.8%.

Competitive advantage for thin-film manufacturers
Formerly, thin-film modules were structured with a laser or a mechanical unit after each individual layering step, which required expensive cleaning steps, lengthened processing times and led to efficiency losses. Between the layering and structuring steps modules had to be passed in and out of a vacuum chamber several times. Due to inaccuracies, 200 to 400 micrometre wide "dead zones" formed, which could not be used to produce electricity. The OSP process minimizes these zones to less than 100 micrometers, simplifies manufacturing and increases efficiency. "Our process is a decisive step forward for the entire thin-film photovoltaic industry", explains 3D-Micromac managing director Tino Petsch. "Since the upstream process chain has been significantly simplified, completely new manufacturing concepts are now possible. Thus, the OSP process is a trailblazer in innovative and fully integrated production lines."
For production, 3D-Micromac utilizes a combined process from laser and printing technology. The company has been successfully using it in other areas of application for years. Whether amorphous silicon, cadmium telluride or CIGS is used, the OSP system can easily be integrated in an existing production line and works on all common formats up to 1,10 by 1,30 meters.
About 3D-Micromac AG
3D-Micromac AG has become one of the leading suppliers of highly efficient laser micromachining systems as well innovative coating and printing technologies on the international market since its foundation in 2002.
Stand-alone systems as well as entire production lines can be offered and are used, for example, in medical technology, the processing of semiconductors, in photovoltaics or the production of flexible electronic components. Besides, 3D-Micromac is your competent partner for the development of new technologies and processes or customized systems.
Further information about the company and the products: http://www.3d-micromac.com
Editor and Press Contact
3D-Micromac AG
Mrs. Mandy Gebhardt
Marketing and Public Relations
Telephone: +49 (0)371 400 43-26
E-Mail: gebhardt@3d-micromac.com
You can find images for this press release at the following link:
http://pressedownload.pr-krampitz.de/2013-05-29_OSP_en.zip
Caption
The One-Stop-Patterning process (OSP) of 3D-Micromac AG – one platform and one production step
© 3D-Micromac AG
Print free of charge. We kindly ask you to provide us with a specimen copy. If you have any questions, we would be glad to help you.
Featured Product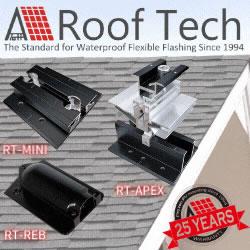 Now Roof Tech brings you the most innovative, watertight mounting systems ever developed for solar photovoltaic systems. Designed and manufactured exclusively for us by Japan's longtime leader in roofing technologies, Roof Tech products are 100% code-compliant and offer fast, simple installation and huge savings on shipping costs due to their compact, rail-less design. Learn more about our full line of versatile PV mounting solutions now available for residential installations. The next generation in rooftop solar mounting solutions."