Solar Impulse to use for first time a revolutionary inflatable hangar after damage to St. Louis Hangar
DALLAS, June 2, 2013 – The strong storms that struck the St. Louis area Friday night have rendered inoperable Solar Impulse's hangar at Lambert-St. Louis International Airport. The solar-powered airplane of Swiss pioneers Bertrand Piccard and André Borschberg remains scheduled to fly from Dallas/Fort Worth International Airport on Monday, June 3, to St. Louis. To protect the aircraft upon landing after midnight CDT (UTC-5) on Tuesday, June 4, Solar Impulse will deploy a revolutionary inflatable structure for the first time.

Multiple tornadoes touched down in the St. Louis region Friday night and caused damage to several Lambert-St. Louis International Airport's buildings including the hangar reserved for Solar Impulse. Postponing the flight is not an option, as the particularly difficult weather conditions in the region leave only very few flight possibilities between Dallas-Fort Worth and St. Louis, and it might be the only one this week. If Solar Impulse doesn't seize this opportunity, the chances of reaching final destination of the Across America Mission as scheduled could be compromised.
Pilot Bertrand Piccard will therefore take-off Monday morning for a 21 hours flight, — his longest in the single-seat cockpit to date. But because of the damage caused to the official hangar in St. Louis, Solar Impulse will attempt to use its own inflatable hangar to park the aircraft. Conceived and designed by the Solar Impulse team for the world tour of 2015, this revolutionary structure will be used for the very first time in real conditions. The team will only have a few hours to deploy this innovative structure before the airplane arrives.
Starting Saturday, Lambert-St. Louis International Airport has mobilized its forces to help Solar Impulse reorganize and confront this extraordinary situation. The Logistics and Mission teams are working hand-in-hand around the clock to face the challenge of bringing the airplane safely to St. Louis and ensuring its protection upon arrival. The stopover in St. Louis during the crossing of the United States is very important and symbolic for Solar Impulse. St. Louis was chosen as the Midwest stopover to pay homage to the city's aviation legacy, which includes aviation pioneer Charles Lindbergh and his "Spirit of St. Louis," the first airplane to fly from New York to Paris non-stop.
After St. Louis, Bertrand Piccard and André Borschberg will continue to alternately pilot the solar airplane to reach Washington, D.C. and New York.
The Solar Impulse Across America mission is made in partnership with Solvay, Schindler, Bayer Material Science, Swiss Re Corporate Solutions, Sunpower and the Swiss Confederation.
About Solar Impulse
Swiss pioneers Dr Bertrand Piccard (Chairman) and André Borschberg (CEO) are the founders, pilots and the driving force behind Solar Impulse, the first airplane that can fly day and night without fuel. Solar Impulse is a unique adventure that aims to bring emotions back at the heart of scientific exploration, a flying laboratory to find innovative technological solutions for today's challenges and a vision to inspire each of us to be pioneers in our everyday lives.
This revolutionary carbon fibre airplane has the wingspan of a Boeing 747 (63.4m / 208 ft) and the weight of a small car (1,600kg / 3,527 lb). It is the result of seven years of intense work, calculations, simulations and tests by a team of about 80 people and 100 partners and advisors. A plane so big and light has never been built before. The 12,000 solar cells built into the wing provide four 10HP electric motors with renewable energy. By day the solar cells recharge the 400kg / 881 lb lithium batteries which allow the plane to fly at night.
Featured Product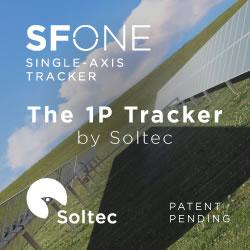 SFOne is the 1P single-axis tracker by Soltec. This tracker combines the mechanical simplicity with the extraordinary expertise of Soltec for more than 18 years. Specially designed for larger 72 an 78 cell modules, this tracker is self-powered thanks to its dedicated module, which results into a lower cost-operational power supply. The SFOne has a 5% less piles than standard competitor, what reduces a 75% the labor time.