Strong Contributions from Utility-Based Projects and Renewable Portfolio Standards to Drive 2014 US Solar PV Above 5 GW
Santa Clara, Calif. (June 3, 2013) — Demand for solar photovoltaic (PV) panels in the US is forecast to grow significantly during 2013 and post another record high of 4.3 gigawatts (GW), an increase of almost 20% compared to 2012, according to the latest NPD Solarbuzz North America PV Markets Quarterly. Solar PV demand from the US market now contributes over 12% of annual global demand, compared to just 5% three years ago.

Demand in Q2'13 is forecast to reach 1 GW, with over 70% coming from California, Arizona, New Jersey, and North Carolina. Residential and small commercial rooftop PV installations will account for 18% of this demand, with another 14% from large commercial rooftops. The utility-dominated ground-mount segment will account for the remaining 68% of new PV demand this quarter.
Large utility-based solar PV projects in Arizona, California, New Mexico, and Texas will drive US demand above 2.5 GW during the second half of 2013. Strong year-end contributions will also come from Hawaii, Massachusetts, Nevada, New York, North Carolina, and Ohio. PV demand from the US is forecast to exceed 5 GW in 2014, representing a 70% compound annual growth rate since 2009.
"The strong commercial and utility-based solar PV being deployed in the US is stimulated by state specific mandates that require solar to meet target levels, or carve-outs, of total energy production," explained Chris Sunsong, analyst at NPD Solarbuzz. "Meanwhile, residential demand is being driven by new third-party ownership models that allow homeowners and businesses to install PV systems with minimal upfront commitments."
Source: NPD Solarbuzz North America PV Markets Quarterly
New solar PV incentive policies and additional utility-scale projects are also starting to diversify PV demand across a greater number of states within the US, moving away from the traditional strongholds limited to the East and West Coasts. Six of the ten fastest-growing US states for solar PV demand in 2013 are located in the South or the Midwest, providing annual growth rates averaging above 180%.
However, sustaining the multi-GW opportunity for solar PV in the US remains heavily dependent on strong PV demand from a small group of states. Just nine states will account for more than 85% of all US solar PV demand in 2013. As a result, the US solar PV market remains highly vulnerable to any abrupt policy changes in the leading US PV states.
"The success of federal incentives and aggressive renewable portfolio standards that were intended to stimulate domestic solar PV installations in the US is now coming under increased scrutiny at the state level", added Sunsong. "Additionally, states such as New Jersey, Delaware, and Pennsylvania that are heavily dependent on solar renewable energy certificates, or SRECs, are at risk of continued over-supply that threatens to limit new solar PV investments."
For more information about the NPD Solarbuzz North America PV Markets Quarterly, contact us at one of our seven global locations, email us at contact@solarbuzz.com, or call Charles Camaroto at 1.516.625.2452 for more information.
About NPD Solarbuzz
NPD Solarbuzz, part of The NPD Group, offers North America PV Markets Quarterly, Marketbuzz, Solarbuzz Quarterly, and other upstream and downstream photovoltaic (PV) market quarterly reports, providing the solar energy and PV industries with global historical and forecast data for the PV supply chain. For more information, visit www.solarbuzz.com or follow us on Twitter at @Solarbuzz.
About The NPD Group, Inc.
The NPD Group provides global information and advisory services to drive better business decisions. By combining unique data assets with unmatched industry expertise, we help our clients track their markets, understand consumers, and drive profitable growth. Sectors covered include automotive, beauty, consumer electronics, entertainment, fashion, food/foodservice, home, luxury, mobile, office supplies, sports, technology, toys, and video games. For more information, visit www.npd.com and npdgroupblog.com. Follow us on Twitter: @npdtech and @npdgroup.
NPD Solarbuzz and Marketbuzz are registered trademarks of The NPD Gro
Featured Product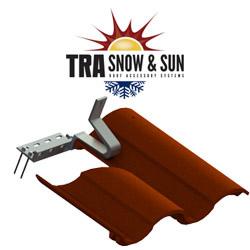 You haven't installed a tile mount that is easier to install than the Solar Tile Mount manufactured by TRA Snow and Sun. Solar Tile Mount is used on all tile roof profiles: flat, mid, and high. It is made in the USA of aluminum alloy for strength and excellent corrosion resistance. Solar Tile Mount is built to allow more ease in installation with more rise from the tile surface to the rail for better air flow below panels. The adjustable base is longer than most allowing attachment 6" to the left or right to have the bracket in the base of the pan of the tile and still fasten to the rafter. Solar Tile Mount is adjustable for counter batten systems from ¾" to 3". The horizontal rail is directly above base fasteners giving greater uplift resistance than any other system. For superior waterproofing apply TRA Snow and Sun's butyl backed VersaFlash aluminum flashing. No tile flashing is needed on top of the tile for greater labor and material cost savings.