Control software evenly allocates power stack usage in high-frequency inverters
Portage, Ind. (June 4, 2013) – Fronius MIX™ Technology from Fronius USA helps maximize photovoltaic (PV) system uptime and energy yield by using control software to evenly allocate internal power stack usage within Fronius high-frequency inverters. Proprietary Fronius MIX Technology (Master Inverter eXchange) is a better alternative than the traditional master/slave configuration involving multiple inverters, because it provides built-in power stack redundancy in case of a fault, and avoids placing an excessive amount of hours under full load on a permanent master inverter. Fronius IG, Fronius IG Plus Advanced and Fronius CL high-frequency inverters feature Fronius MIX Technology.

According to Thomas Enzendorfer, Director of Sales and Marketing, Fronius USA, all power stacks within Fronius high-frequency inverters can operate as either a master or slave inverter. Each time the inverter is restarted, its control software determines which power stack has the lowest number of operating hours and assigns it the master role for that day. As soon as the PV system output exceeds a pre-set value, the master power stack turns on subordinate power stacks as necessary. The control software repeats the process the next morning, and depending on the number of operating hours already worked, a different power stack may become the master.
"Fronius MIX Technology sets the highest standards with regard to uptime stability for PV systems and peace of mind for system owners and operators," Enzendorfer said. "In addition to evenly allocating power stack usage, if the master power stack develops a fault, another power stack can take over its role virtually immediately, allowing the inverter to continue to supply electricity, so there is little or no drop in yield."
In a traditional master/slave configuration comprising two or more inverters, one inverter is designated as the permanent master. This master inverter is responsible for controlling the subordinate inverters and managing the system. It begins working in the morning, and as sunlight levels increase, it switches on subordinate inverters as required. On cloudy days or in the winter, the master inverter can work alone without subordinate inverters. However, that means it also works many more hours under full load, Enzendorfer said, which puts more stress on its components over time.
In addition to Fronius MIX Technology, Fronius high-frequency inverters each have a dedicated area at their base for all connections, making installation easy and efficient for installers.
For more information about Fronius high-frequency inverters using Fronius MIX Technology, visit fronius-usa.com.
Featured Product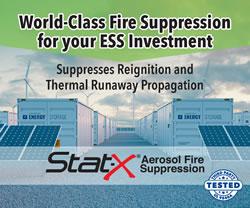 Stat-X® condensed aerosol fire suppression is a solution for energy storage systems (ESS) and battery energy storage systems (BESS) applications. Our Stat-X condensed aerosol fire extinguishing product was tested for efficacy in suppressing li-ion battery fires. It was found that the product successfully extinguished single and double cell battery fires. This testing was conducted in parallel with a large battery fire testing program on behalf of a large energy storage company.