Intersolar Europe: Simply Count on More – Valentin Software Presents New Planning Programmes for Photovoltaic and Solar Heating Systems
Valentin Software is launching the first simulation programme that can simulate battery systems in grid-parallel operation realistically – PV*SOL advanced 6.0. The new version of the solar thermal programme T*SOL Pro, 5.5, will enable users to easily calculate yields for the use of solar thermal collectors.

With the dynamic simulation programme PV*SOL advanced 6.0, users can precisely calculate their own consumption from solar power plants, since the system does not only design photovoltaic power plants, but simulates the storage of electricity in the battery system as well. Unlike the previous programme PV*SOL Pro, the new programme can now import load profiles into resolutions by the quarter hour or even the minute. Furthermore, the programme can calculate the string line losses and issue AC and DC wiring losses per inverter.
More freedom when planning a PV plant
With PV*SOL advanced, as many module surfaces can be employed as desired and several inverters can be selected, which one can combine with each other as needed. In a matter of seconds, the programme, by automatically connecting the inverters, provides all of the useful combinations for a solar plant with up to 100,000 modules.
"With PV*SOL advanced, planners, architects and installers can show their customers directly what makes sense financially and in terms of energy use in spite of sinking feed-in tariffs", explains the managing director of the Berlin-based software company, Gerhard Valentin.
As with all PV*SOL versions, PV*SOL advanced also has a comprehensive module and inverter data base with over 12,000 modules and around 2,800 inverters.
A substantial argumentation aid for solar heating systems
The software T*SOL Pro – for the simulation and optimisation of solar thermal systems – will be released during Intersolar Europe as the new version, 5.5. Thanks to the integrated imaging program, Photo Plan, collectors can be simulated on a customer's roof in their real dimensions and represented photo-realistically. One of the new features is an expanded economic efficiency forecast which includes a yield calculator. Annual savings and payments can now be balanced in a table and presented in a graph. In addition, the project report now displays solar proportions separately according to the share of warm water and heat.
Both product innovations are already available in German, English, French, Italian and Spanish, and PV*SOL advanced in Polish as well. As a service, Valentin Software is offering beginners' webinars free-of-charge on a regular basis.
Helpful new app for data recording on location
In addition, Valentin Software will be presenting an app for smart phones at Intersolar, which will make recording data from roof orientation and pitch child's play. An online calculation of the location-specific annual yield is included.
Valentin Software at Intersolar Europe
Valentin Software will be presenting its product innovations from 19 to 21 June at Intersolar Europe in Munich at stand Number 140 in Hall A6. Twice a day, the company will offer live planning sessions and video presentations at its fair stand. In the afternoon of 20 June, there will be a raffle where one can win the programmes. Additionally, Valentin Software will be presenting PV*SOL advanced at the innovation exchange at 11:15 a.m. on 21 June. On the occasion of its 25th company anniversary, Valentin Software will be granting a 25 per cent discount on all programmes ordered at Intersolar Europe.
About Valentin Software
Valentin Software looks back at 25 years of company history. Thanks to its brands PV*SOL®, T*SOL®, and GeoT*SOL® for dynamic simulation, dimensioning, yield and profitability forecasts of photovoltaic, solar thermal and heat pump plants, the Berlin-based software company has developed into one of the world's leading suppliers of innovative planning software for sustainable energy provision.
Among its customers count engineers, planners, architects, installers and craftsmen as well as manufacturers from the sectors of electrical, heating and building services engineering.
Editor and Press Contact
Dr. Valentin EnergieSoftware GmbH
Silke Reichmann de Salas
Stralauer Platz 34
10243 Berlin
Germany
Tel.: + 49 (0)30 588 439 – 31
Fax: + 49 (0)30 588 439 – 11
Email: sr@valentin.de
http://www.valentin.de/en/news/press
The press release, as a PDF, and pictures can be found at the following link:
http://pressedownload.pr-krampitz.de/PM_Valentin_Software_Intersolar_2013_en.zip
Source: Valentin Software, Berlin
Publication free of charge, although we kindly request a sample copy. We would be pleased to send you additional image material. If you have any questions, we would be glad to help you.
Featured Product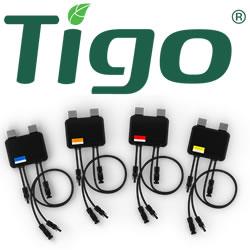 Tigo will announce the new product launch of the patented UHD-Core TS4-A (Advanced Retrofit/Add-on) Platform at SPI 2019. The new TS4-A-M (Monitoring) & TS4-A-S (Safety) units have improved lightweight hardware and lower labor costs to address a range of functions and budgets. The TS4-A-M allows module-level monitoring via Tigo's SMART Website & App. The TS4-A-S is UL-certified as a rapid shutdown solution for residential and C&I PV system. Both units join the Tigo's multivendor solution that works with almost any inverter and smart module in the global PV market. Contact sales@tigoenergy.com for pricing, shipping, and availability in Q4'19.