First Project on University of Florida Housing Offers 4.4%* Return
OAKLAND, CA -- (June 4, 2013) Mosaic, an online marketplace that connects investors to high-quality solar projects, has just launched a new program to help schools benefit from solar by sourcing capital from the crowd. Mosaic's first Solar Schools project is a 251 kW system on University of Florida apartment community for graduate students, faculty and staff that offers an estimated 4.4%* annual return.

"Schools have always been at the forefront of innovation. We hope that through Mosaic's platform we can harness the power of the student, parent, faculty, administrator and alumni community to help more schools go solar," said Mosaic's Founder and President Billy Parish.
According to the Department of Energy, US K-12 school districts alone spend $6 Billion a year on energy - exceeding the amount allocated for textbooks and computers combined. Through Mosaic's platform, individuals can help more schools move their funds towards education as well as support the schools use of a cleaner energy source. The impact of University of Florida's project includes offsetting the average energy required to power 26 US homes in one year.
Along with offering its first solar project on a school, Mosaic is also crowdsourcing recommendations from those who want to help a school in their community go solar. Mosaic's online solar schools tool allows parents, teachers, students, faculty and school administrators to nominate their school to go solar. Mosaic will then work to connect the school to top-tier solar developers and evaluate the project for the possibility of financing it on its platform.
From June 4th-June 11th Mosaic also has a special offer for students and faculty to match their first $100 investment with an additional $25 free if they create an investor account with their .edu email address (more details here).
Through Mosaic's platform, investors can browse through solar projects and invest as little as $25 dollars to earn competitive returns. Mosaic's expected yield is competitive with corporate bonds (averaging 5.20% from 2003-12) and significantly greater than that of Treasuries (1.90%) and CDs (0.50%).
About Mosaic
Mosaic is an online marketplace that connects investors to high-quality solar projects. Mosaic's mission is to open up clean energy investing to the public and fundamentally change the way energy is financed. Mosaic is partnered with Standard & Poor's, DuPont and Distributed Sun, among others, as part of the truSolar™ working group to standardize risk assessment and develop a score -- similar to a credit rating -- for each solar project. To date, Mosaic has raised over $2M from more than 1,000 investors to finance solar projects in California, Arizona and New Jersey. For more information about Mosaic visit www.joinmosaic.com.
*Please visit joinmosaic.com to learn more about the project and to access the offering memorandum, which discusses the project, the terms of the investment and the risks associated with this investment.
Featured Product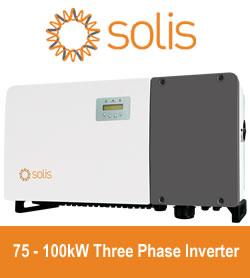 Solis75kW - 100kW series high-power string inverters are widely used in industrial and commercial rooftops. Solis's new three-phase string inverter is the first choice for industrial and commercial photovoltaics. 75-100kW three phase series string inverter have Maximum 28 strings input, support "Y" type connection in DC side. Maximum string input current 13A, support bifacial modules access.Supports anti-PID function to improve system efficiency.