Intersolar in Munich from June,19 to 21
Oldenburg, Prenzlau, 5 June 2013. aleo solar AG will be putting the spotlight on self-consumption of solar power at the Intersolar in Munich from June,19 to 21. Under the heading "energy experience", the module producer and system supplier will be presenting solutions to make efficient use of solar power in the entire household. aleo solar will be showing its products and services, which range from a multi-functional combination of photovoltaic and thermal module, as well as energy storage solutions to a calculation software for installers. By designing its booth like a house, aleo solar emphasises the thematic focus of its exhibition. The Intersolar is the most important trade fair in the photovoltaic industry.

At its booth A2.380 in Hall 2, aleo solar will demonstrate its PVT hybrid module which combines both photovoltaics and solar heating. The black module aleo S_79 with its tailored thermal component on the back side provides electricity and hot water at the same time. The thermal component also ensures the optimal operating temperature of the photovoltaic cells by cooling them, thereby increasing electricity production. A heat pump operated with solar power highlights another attractive use of photovoltaics.
aleo solar's product developers will also present innovative prototype modules such as the alternating current (AC) module, which is ideally suited for small-scale self-consumption systems: since it does not have direct current (DC) wiring to the inverter, it is a "plug and play" module and quick, easy and costefficient to install. Solar systems with AC modules are easy to expand and suitable for partially shaded roofs or varying roof orientation, since each individual module's performance is optimised. Solar modules with micro-inverters offer similar advantages. Other innovative prototypes that aleo solar offers include a glass-glass module and a new high efficiency module. An installation system for frameless aleo laminates and other installation systems for aesthetical building-integrated solar installations will be shown as well.
In order to provide single-family households or small business with a high degree of self-sufficiency with solar power, aleo solar provides convenient and easy-to-install storage systems. The Bosch PowerTec VS 5 Hybrid and the S10 home power plant from E3/DC meet the subsidy criteria of the German Federal Ministry for the Environment which allows low-interest loans and a repayment bonus for storage systems. To professionally calculate the cost-effectiveness of photovoltaic systems with self-consumption, aleo solar has specifically developed a software, the "aleo Profit Consultant" (aleo Profitberater). Moreover, the aleo academy offers trainings on the planning and sales of self-consumption systems to their installer partners.
The Company
aleo solar AG produces and distributes premium solar modules and systems for the international photovoltaic market. Since 2009, the Bosch Group has owned a majority of the company (DE000A0JM634), which was originally founded in 2001 and has been listed on the stock exchange since 2006. The premium manufacturer currently has approximately 900 employees and is represented in the key photovoltaic markets all over the world. The aleo solar group has an annual production capacity of 280 megawatts at its plant in Prenzlau, Germany. The company generated a turnover of Ä 279.9 million in 2012.
Featured Product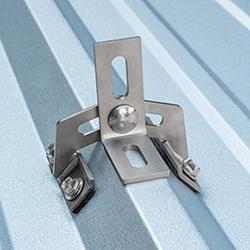 They have been changing the game for 10 years with their original Top Mount line for Asphalt Shingle roofs, and by now supplying one of the widest ranges of solar mounts in North America. From their patented products, to the custom production services they offer, QuickBOLT has been working with solar installers for nearly a decade to make solar installations easier than ever before.