Renewable UK Offshore Wind Conference & Exhibition in Manchester, June 12-13 at Stand 216
June 5, 2013

Sidney, BC Canada
The AXYS Team is pleased to announce that they will be exhibiting at the Renewable UK Offshore Wind Conference & Exhibition in Manchester, June 12-13 at Stand 216.
We will be showcasing the WindSentinel - the world's first commercially deployed offshore wind resource assessment system. WindSentinel buoys are currently deployed in Lake Michigan, off Atlantic City, and off Tainan City in Taiwan.
AXYS looks forward to welcoming attendees at the UK's largest Offshore Wind event. We hope you can visit us at Stand 216.
If you would like to set up a meeting in advance, please email Graham Howe at ghowe@axys.com.
About AXYS Technologies Inc.
AXYS Technologies, Inc. designs, manufactures, distributes and maintains remote environmental data acquisition, processing and telemetry systems. For further information contact AXYS at info@axys.com or visit www.axystechnologies.com
Featured Product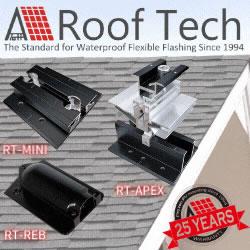 These ongoing webinars cover Roof Tech's background, product design (RT MINI and APEX), code and best practices. You will learn about a proven system that reduces installation time while keeping the integrity of the roofing system. This training will earn you one NABCEP Continuing Education Credit. The webinars are offered every Tuesday from 11 AM PDT to Noon during the months of April and May, 2020.