Baker Electric Solar is pleased to announce it has completed a seventh Cal State San Marcos Senior Experience Project sponsored by the Baker Electric companies. The video project was formally released on May 16 at the Senior Experience Tradeshow.
Baker Electric Solar, a full-service solar integrator specializing in green technology design / build residential solar and commercial solar installations, is pleased to announce it has completed a seventh Cal State San Marcos (CSUSM) Senior Experience Project sponsored by the Baker Electric companies.

The BES Spring 2013 Senior Experience Project, a professionally produced three-minute corporate video documenting what sets Baker Electric Solar apart from the competition, featuring why solar professionals choose to work for BES, was presented by the team of CSUSM College of Business Administration (CoBA) students at the May 16 Senior Experience Tradeshow at the California Center for the Arts in Escondido.
The Senior Experience Program matches teams of four to five students with projects submitted by local businesses. Students gain by working as consultants on rigorous, real-world projects that require teamwork and application of classroom knowledge. Businesses benefit by receiving concentrated attention from bright, energetic teams that provide a fresh, independent look at their projects. The five-unit, one semester course sequence is the only one of its kind in the nation and is a graduation requirement for all CoBA majors.
Baker Electric Solar submitted a project proposal requesting the production of a high quality marketing video. The video would be hosted on YouTube and used for sales, marketing and recruiting purposes. BES sponsor contact, Ashley Arant, gave the student team the following problem statement and direction – produce a video to address everything that defines and separates Baker Electric Solar from the 200+ solar competitors in the region. Include employee testimonials, the working environment at BES and a solar system installation.
Students – Cameron Buzzard, Vivian Chung, Brandon Losey, Tatiana Prpich and Allison Staggs – spent more than 90 hours researching proper equipment, lighting, custom graphics, shooting on- and off-site footage and editing the video. Titled: "San Diego Solar Company – Why Choose Baker Electric Solar?" the video covered BES experience, teamwork, quality and benefits. Staff members talk about how it feels to work at Baker, as well as installation footage depicts the benefits of a BES solar system.
"Once the video was completed, we decided to host a 'Movie Premiere' with lunch for the CSUSM team and our employees. The fun began with our employees getting movie-style popcorn and candy for the premier viewing," said Marketing Manager, Arant. "All were delighted to see themselves and co-workers in the film. The students received a round of applause for their excellent work in telling the Baker Electric Solar story."
"Baker Electric Solar has been an extremely valuable corporate partner in our program. They have sponsored seven teams in the last three years, making them one of our most significant partners with more projects than any other firm in that time period," said James R. Hamerly, Director of Business Community Relations, CSUSM. "They continue to provide challenging projects to our teams of students, provide excellent guidance when needed, and are overall very supportive."
For more information about Baker Electric Solar call (877) 543-8765 or go to http://www.bakerelectricsolar.com.
About Baker Electric Solar (BES)
Escondido-based NB Baker Electric, Inc., dba Baker Electric Solar, designs, builds and installs photovoltaic solar power systems for new and existing homes and commercial facilities across Southern California. Baker Electric Solar offers multiple financing options including a zero-down, fixed monthly payment lease option. BES is a BBB accredited business with an A+ rating. BES is a 2012 Inc. 500|5000 company and one of San Diego's 2012 Fastest Growing Private Companies. In addition, BES is San Diego's first SunPower Elite Dealer and 2011 SunPower Regional Residential Dealer of the Year. For more information, visit http://www.bakerelectricsolar.com.
Featured Product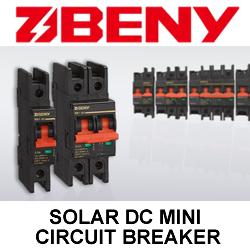 The BB1-63 modular miniature circuit-breakers can be used in solar DC circuits up to 1200 VDC (4-poles execution). Application in solar DC circuits, battery energy storage systems and UPS. Arc flash barrier design keeps solar equipment more safe and reliable. For DC circuit over-current protection.