Up to 8kHz Waveforms now Supported
Marlboro, MA ─ June 6, 2013 ─ Data Translation, Inc., an industry leader in data acquisition, today announced that it has increased the performance of its 4 and 8 channel analog output modules to provide continuous waveform streaming. These DAC modules, the DT9853 and DT9854, now allow up to 8 kHz waveforms to be supplied for industrial testing, control loop, and process control applications.

"Industrial customers have liked the galvanic isolation and current output capability of the DT9853/4 series, but needed continuous output to operate valves, motors, and energy control devices," according to Fred Molinari, CEO.
The DT9853 and DT9854 offer voltage outputs of 0 to 10V, ±10V as well as 0 to 20mA for current drive outputs to reduce line drop errors. The output DACs are 16-bit, have 16 lines of Digital I/O, and 1 32-bit counter timer at 1MHz to measure events.
Additional Resources
Readers can learn more about the DT9853/54 by visiting:
http://www.datatranslation.com/products/dataacquisition/usb/DT9853-DT9854/
About Data Translation
Data Translation Inc. (www.datatranslation.com) is a leading designer and manufacturer of high performance USB and Ethernet (LXI) data acquisition (DAQ) modules for temperature, voltage, strain, and vibration measurement and analysis solutions for the test and measurement market. In-house manufacturing in the company headquarters located in Marlboro, MA ensures complete quality control on all products. Additionally, 5-day standard delivery is guaranteed on most shipments, along with free comprehensive technical support.
Featured Product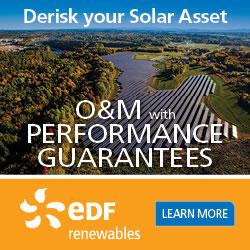 EDF Renewables offers the same innovative solutions that maximize the performance of our own 5.2 GW of installed projects. Because we're not an equipment manufacturer, our recommendations are transparent and data-driven. We cover the entire project lifecycle: from pre-commissioning support, through warranty and post warranty operation, to late stage and decommissioning.