Secretary of the Interior Sally Jewell and Secretary of Energy Ernest Moniz Join Discussion on Future of Clean Energy
Las Vegas, NV — In its sixth year, The National Clean Energy Summit returns to Las Vegas on Tuesday, August 13, 2013 at Mandalay Bay Resort & Casino to focus on the future of clean energy with "National Clean Energy Summit 6.0: Energizing Tomorrow." The nation's foremost clean energy conversation, this year's event will discuss the importance of making clean energy choices that will have a positive effect on the future. The first group of confirmed participants includes newly appointed Cabinet members Secretary of the Interior Sally Jewell and Secretary of Energy Ernest Moniz as keynote speakers.

The annual conference is hosted by Senate Majority Leader Harry Reid (D-NV), Center for American Progress , the Clean Energy Project, MGM Resorts International and the University of Nevada, Las Vegas. Clean energy visionaries, business leaders, students and a bipartisan panel of politicians from state and local governments will convene this year to discuss how smart, clean energy choices made by individuals, governments, and businesses can save consumers money, grow the economy, create jobs and protect public health by reducing pollution.
"I am so pleased to be hosting the National Clean Energy Summit 6.0 on August 13th in Las Vegas," said Senate Majority Leader Harry Reid. "Nevada is the ideal location to host this summit because our state is a leader in developing wind, solar and geothermal resources. Each year our speakers illuminate the challenges and solutions facing our nation's effort to reduce our dependence on dirty fossil fuels and invest in clean energy. I look forward to continuing to make progress on clean energy and hope you can join us."
"Energizing tomorrow will require collaboration between the government and clean energy innovators and entrepreneurs," said John Podesta, Chair of the Center for American Progress. "The government can support the shift to clean energy by putting a price on the carbon pollution responsible for climate change. This would make emerging clean energy technologies more competitive in the market. In addition, public-private partnerships can help communities improve their infrastructure so that it is more resilient to future extreme weather events, which we will discuss in one of the panels at this year's summit."
Participants will have access to a range of panels featuring policymakers and industry leaders, presenting energy options that Americans can choose in order to stay competitive in the estimated $2 trillion global clean energy market. The panel topics this year include:
· Clean Energy Solutions in States – What are states doing today and what can they do better to create a good business environment for investments in renewable energy, distributed generation, clean fuels, and clean energy infrastructure?
· Resilience to Extreme Weather – How can clean energy and investment in our critical infrastructure make communities more resilient to the growing incidence of extreme weather?
· Breaking Through Gridlock on Energy Policy – How can decision makers become more effective at advancing energy policies to modernize our electricity grid, increase energy efficiency, invest in new technologies, create jobs, make our nation more secure and independent, and reduce pollution?
· 21st Century Energy Market – What can be done to improve regional collaboration in electricity markets in order to facilitate clean energy development, reduce electricity prices for consumers and businesses, and improve grid reliability and access?
· From Innovation to Deployment – What approaches have been most effective at transforming innovative clean energy ideas to commercially available technologies? What are the finance mechanisms available to accelerate investment in innovation and deployment of transformative clean energy technologies?
An annual event with a history for driving the clean energy conversation forward, the summit attracts clean energy leaders, public officials, business executives, energy policy experts, entrepreneurs, investors, citizens and students to discuss how to empower the public with the tools to promote clean energy, increase energy independence, and create jobs.
"This annual summit serves as a springboard for our nation's clean energy leaders to come together and discuss our clean energy issues and solutions," said Rose McKinney-James, Board Chair of the Clean Energy Project. "For the last five years, the National Clean Energy Summit has supplied a productive environment for creative and innovative collaboration, allowing great minds to develop even greater ideas for the future of clean energy."
WHO: "National Clean Energy Summit 6.0: Energizing Tomorrow" confirmed speakers include:
· Senator Harry Reid (D-NV), Senate Majority Leader
· John Podesta, Chair, Center for American Progress
· Secretary Dr. Ernest Moniz, Secretary of Energy
· Secretary Sally Jewell, Secretary of the Interior
· Senator Byron Dorgan, Former Senator, North Dakota and Senior Fellow at the Bipartisan Policy Center
· Senator Trent Lott, Former Senator, Mississippi and Senior Fellow at the Bipartisan Policy Center
· Senator Timothy Wirth, Former Senator, Colorado and Vice Chair of the United Nations Foundation and the Better World Fund.
· Dr. Kathryn Sullivan, Acting Under Secretary of Commerce, Oceans and Atmosphere and Acting Administrator, National Oceanic and Atmospheric Administration (NOAA)
· Patricia Mulroy, General Manager, Southern Nevada Water Authority
· Michael Peevey, President, California Public Utilities Commission
· Phyllis Cuttino, Director, Clean Energy Program, PEW Charitable Trusts
· Matthew Nordan , Vice President, Venrock (Venture Capital Firm)
· Ethan Zindler,, Head of Policy Analysis, Bloomberg New Energy Finance (BNEF)
· Chris Taylor, Executive Director, West Coast Infrastructure Exchange
· Dr. Neal Smatresk, President, University of Nevada, Las Vegas
More speakers to be announced soon.
WHEN: Tuesday, August 13, 2013
9 a.m. – 6 p.m.
WHERE: Mandalay Bay Resort & Casino
3050 S. Las Vegas Blvd.
Las Vegas, NV 89109
REGISTER: To register for Summit 6.0, read more information about the panels and panelists, or view periodic updates and notices, please visit cleanenergysummit.org.
Featured Product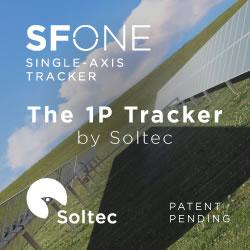 Under the slogan "engineered for greatness", the SF8 tracker aims to revolutionize the photovoltaic market with its new minimum 2x60 configuration and 4 to 6-strings. This tracker is elegantly designed while it reinforces its structure to perform in any terrain. In addition, the SF8 tracker increases the rigidity of its structure by 22% more than the previous generation of Soltec trackers, the SF7. The SF8 is specially designed for larger 72 and 78 cell modules, an increasing market trend.