Home Builders can now Offer Solar in New Home Communities with No Upfront Costs
PCBC 2013

SAN DIEGO--SolarCity (Nasdaq: SCTY), a leading provider of clean energy, today announced the launch of a Zero-Down solar financing program for the home building industry. Home builders now have the opportunity to offer solar in their new residential communities without incurring any upfront costs. New homebuyers can save up to 20 percent on their energy costs from the very first day they move in by using clean, renewable solar electricity to power their new homes.
Since 2006, SolarCity has made solar accessible to more than 57,000 customers in the country through its solar lease and power purchase agreements (PPAs). Typically, only individual homeowners had the option to get solar with a zero down solar lease or a solar PPA; home builders could only integrate solar in their new home construction with a full prepay option. Now, SolarCity is making it just as easy for home builders to take advantage of the Zero-Down financing and pass on the savings to their customers. The Zero-Down financing program from SolarCity will initially be available to home builders in Arizona, California, Colorado, Maryland, New Jersey and Oregon. SolarCity expects to expand the offer to additional territories in the coming months.
"Home builders today are investing heavily in adopting green construction practices and solar is a linchpin in the success of a modern, energy efficient home," said Walter Cuculic, SolarCity's national manager of Builder Programs. "SolarCity's full-service offering and our new Zero-Down financing option helps home builders meet their aggressive construction timelines and stay within their budgets, and solar will save money for the homebuyer on their energy bills for years to come."
The home builder industry has experienced a surge in demand and new home construction continues to be on the rise. The National Association of Home Builders (NAHB) estimates that 650,000 single-family homes will be on the market in 2013, and expects single-family construction to grow by another 30 percent in 2014.* Concurrently, savvy homebuyers are seeking energy efficiency features when purchasing a newly constructed home. The residential sector contributed to 20% of the total carbon dioxide (CO2) emissions in the U.S. last year.** Home builders therefore have a prime opportunity to make an environmental impact with their new residential construction, and meet the rising demand for new homes by offering energy savings from solar to their customers.
SolarCity has partnered with national and regional home builders to incorporate solar in all types of new residential construction that will lower energy costs. In the first five months of 2013, the total kilowatts (kW) of SolarCity's installations for new home builder construction have grown by more than 300 percent compared to the same period in 2012. Through its Homebuilder Partner Program, SolarCity has formed partnerships with more than 30 national and regional home builders in 125 communities across the U.S., including Brookfield Homes, De Young Properties, Del Webb, Elliott Homes, McMillin Homes, Taylor Morrison, Toll Brothers, SheaXero from Shea Homes, Woodside Homes, and more.
This week, SolarCity will be exhibiting at the Pacific Coast Builders Conference (PCBC) homebuilder tradeshow in San Diego from June 5-6. Home builders interested in meeting with SolarCity representatives can visit PCBC Booth 109, Hall E, San Diego Convention Center, 111 W. Harbor Drive, San Diego, CA 92101.
Home builders interested in learning more about incorporating solar in their construction of new homes can reach SolarCity at 888-765-2489 or email builders@solarcity.com.
* The National Association of Home Builders (NAHB), NAHB Forecasts Further Growth for Home Building Industry, 2013
**U.S. Energy Information Administration (EIA), Energy-related CO2 emissions by source and sector for the United States, 2012
About SolarCity
SolarCity® (NASDAQ: SCTY) is a leading provider of clean energy in the U.S. The company disrupted the century-old energy industry by providing renewable electricity directly to homeowners, businesses and government organizations for less than they spend on utility bills. SolarCity gives customers control of their energy costs to protect them from rising rates. The company offers solar power, energy efficiency and electric vehicle services, and makes switching to clean energy easy by taking care of everything from design and permitting to monitoring and maintenance. SolarCity currently serves 14 states and signs a new customer every five minutes. Visit the company online at www.solarcity.com and follow the company on Facebook & Twitter.
Featured Product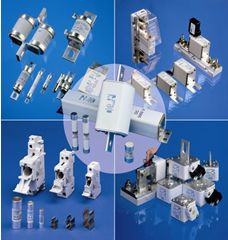 SIBA Fuses: your trusted source for all your circuit protection applications, from solar power to wind power. We are the world leaders in these applications and the most trusted name for your circuit protection needs. We have been working for over 70 years in semiconductor fuses, including ULTRA RAPID®, medium, and high voltage, standard European, miniatures, electronic fuses, and a wide range of DC rated fuses (24 VDC - 5000 VDC) for all types applications. We work with medium and high voltage fuses for protection of transformers, including submersibles, motors, medium and high voltage switchgear, compact substations, cable feeders, and high voltage capacitor circuits. New: Full line of PV UL Listed fuses and fuse holders. Contact us today for more information on our products and services.