WASHINGTON, D.C.– With the announcement today that California's San Onofre Nuclear Generating Station will be shut down permanently, Rhone Resch, SEIA president & CEO, issued the following statement:

"The solar industry stands ready to work with state and utility officials on a long-term, cost-effective plan to increase electrical generation to Californians by adding new solar capacity. Whether it's through rooftop solar systems on homes, businesses and schools, or large utility-scale projects, solar offers the state a clean, safe, affordable and reliable source of energy, which is literally inexhaustible. This will not only benefit ratepayers over the long run, but it will also improve the reliability of California's grid – especially during peak demand times and during the state's long, hot summers."
About SEIA®:
Established in 1974, the Solar Energy Industries Association® is the national trade association of the U.S. solar energy industry. Through advocacy and education, SEIA and its 1,000 member companies are building a strong solar industry to power America. As the voice of the industry, SEIA works to make solar a mainstream and significant energy source by expanding markets, removing market barriers, strengthening the industry and educating the public on the benefits of solar energy. www.seia.org
Featured Product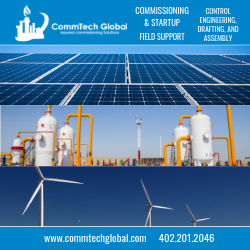 CommTech Global Solutions, LLC, provides professional and reliable commissioning services to customers in all realms of the energy industry. We blend our skills in engineering and technology with innovative business models, offering a complete range of services to assist you for a successful and in compliance operational startup. Consolidation of all our service domains gives our clients a comprehensive set of expertise and far-reaching experience on each project.