OGDEN, UT, USA and MADRID, SPAIN - June 12, 2013 - Premiering as an exhibitor in Intersolar Europe 2013, Infinia Corporation today announced it has begun commissioning the first of seven commercial-scale PowerDish™ installments currently underway at the Tooele Army Depot, a U.S. Army installation in Utah, USA. Featuring Infinia's game-changing free-piston Stirling generator technology, the 1.5 MW solar power plant includes 429 PowerDish units that are contributing toward the U.S. Army's push for greater energy security utilizing renewable solutions.

"We are excited to mark this milestone in providing the Tooele Army Depot with a long-term, dependable clean energy solution," said Infinia President and CEO, Mike Ward. "Given their need for secure energy, high performance and reliability, our PowerDish is ideally suited to help them optimize their sustainable energy goals and provide them with 30% of their electricity requirements."
PowerDish is a parabolic dish with a unique free-piston Stirling generator that converts the sun's heat into grid-quality AC power at 34% efficiency. The PowerDish uses no water, and can be deployed faster than other concentrating solar thermal technologies.
"Infinia has been a leader in free-piston Stirling technology for more than 25 years," said Jos van der Hyden, Infinia Chief Commercial Officer. "The maturity of this technology combined with our lean manufacturing expertise creates a compelling message that resounds with our customers and is setting the tone for our expansion in the European solar market."
Infinia has deployed its PowerDish product at numerous locations around the globe and is currently involved in two NER300 projects awarded by the European Commission. The Cyprus/Helios project includes a 50 MWe transmission-scale PowerDish deployment near the city of Larnaca where each of the 16,920 dishes will supply electricity to the national grid. The Greece/MAXIMUS project in the Florina region will have a total installed capacity of 75.3 MWe. The plant includes 25,160 PowerDish units composing 37 distribution-scale power plants, each connected to the grid via a single connection point.
The European Commission's strict eligibility criteria for awarding these projects is similar to the high standards Infinia is required to meet for the U.S. Army Corps of Engineers, and includes proven innovative technology, scalability, and on-time delivery. "We are confident our free-piston Stirling technology will help create a lasting impact as we move forward to help the EU meet its aggressive renewable energy goals," added Van der Hyden.
To learn more about the Company's solar products and free-piston Stirling technology, please visit Infinia at Booth 454, Hall B1 at Intersolar Europe 2013.
About Infinia Corporation
Infinia Corporation is an energy technology company developing and manufacturing high-efficiency, free-piston Stirling generators that convert readily available and low cost heat sources such as solar, biogas and natural gas into reliable on- or off-grid electricity. The company's PowerDish is the world's first Stirling-basedsolar power generation system suitable for automotive-scale manufacturing and deployment from small distribution-scale arrays to multi-megawatt, utility-scale solar power plants. For more information on Infinia Corp., its Stirling platform, PowerDish solar and solar hybrid products or fuel-fired generator power systems, please visit www.infiniacorp.com.
Featured Product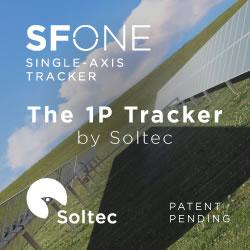 Soltec manufactures and supplies solar trackers designed and proven for extreme climate conditions, which is an ideal solution for any region's environment. Soltec's trackers are self-powered, requiring no additional PV module or grid-powered connection. Bifacial modules collect energy on both the front and rear sides, capturing reflected irradiance from the ground surface under and around the tracker and from other modules. Depending on site conditions, bifacial yield-gain can reach +30 percent.