Messe München from June 19–21
Munich, June 12th, 2013 – An increasing number of German companies are investing in renewable energy sources, such as photovoltaics (PV), to provide their own energy supply. The on-site consumption of solar power provides companies and industries with a lucrative alternative to conventionally generated electricity. In addition, cost-effective, flexible mounting systems help to reduce the system costs of PV installations. Intersolar Europe, the world's largest exhibition for the solar industry, is taking place at Messe München from June 19–21. In various forums and workshops, the exhibition showcases the latest trends and developments in mounting systems for both PV and solar thermal plants. Around 1,500 exhibitors are expected at Intersolar Europe, including more than 100 suppliers who will present their innovative products in hall B3.

In the face of rising electricity prices, more and more companies are generating their own power. The drop in price for solar modules means that photovoltaics (PV) is becoming an alternative to conventionally generated power because it is increasingly cost-efficient and calculable. In 2005, almost 75% of system costs were spent on solar modules. Nowadays, module costs make up just 60% of the overall price. Around half of the remaining costs (40%) for PV installations currently go towards installing the mounting system and buying the materials required. In light of falling module prices, installation systems and their cost-cutting potential are now taking center stage in the production of economical entire systems, with innovative, safe and effective fastening options in high demand.
Flexible mounting systems for PV installations on industrial and commercial roofs
Manufacturers of mounting systems are increasingly striving for simple, yet practical, solutions – for example, flexible solutions that enable each module to be individually aligned. A particular challenge is presented by the structure of commercial roofs, which often cannot support a lot of additional weight. One possible mounting solution is to use affordable substructures made out of fiber glass, because these can be easily transported and assembled as well as installed without penetrating the roof. Innovative mounting systems that allow for an east/west alignment on flat roofs also significantly contribute to reducing electricity production costs. These systems can increase solar power yield by more than 20%.
Innovations for ground-mounted installations and residential buildings
When building large PV ground-mounted installations, the amount of time required is one of the most important factors in calculating installation costs. Simple mounting systems with few main components are designed to help installers to mount the installation quickly, even on uneven land. The same applies for setting up mounting systems on residential buildings. Thanks to user-friendly snap lock systems and the small number of individual components, time and installation costs can be significantly reduced.
Latest mounting systems at Intersolar Europe 2013
The world's largest exhibition for the solar industry provides forums and workshops that explore topics surrounding innovative mounting systems. In hall B3 at Messe München, over 100 companies showcase technical solutions and products for mounting systems. At the Innovation Exchange (hall B2, booth B2.450), exhibitors present projects they have implemented in a series of presentations on Friday morning, June 21. They are then on hand to provide information to the
specialist audience. On June 20 from 2:30pm–5:00pm, the exhibition workshop PV for Industrial & Commercial Rooftops teaches visitors everything they need to know about practical applications, financing and building regulations for PV systems for commercial and industrial roofs (hall B1, room B13).
Intersolar Europe 2013 takes place from June 19–21 at Messe München.
Further information on Intersolar Europe can be found at www.intersolar.de
Partners of Intersolar Europe
Intersolar Europe is supported by the leading solar industry associations: the German Solar Industry Association (BSW-Solar) as an exclusive partner, the German Solar Energy Society (DGS), the European Solar Thermal Industry Federation (ESTIF), the International Solar Energy Society (ISES), the SEMI PV Group, and VDMA-PV, the platform for photovoltaic production equipment within the German Engineering Association. With the support of the European Photovoltaic Industry Association (EPIA).
About Intersolar
With around 3,000 exhibitors and 100,000 visitors spanning four continents, Intersolar is the world's leading exhibition series for the solar industry and its partners. It unites people and companies from around the world with the aim of increasing the share of solar power in our energy supply.
Intersolar Europe takes place annually at Messe München. It is the world's largest exhibition for the solar industry and its partners. In 2012, 1,909 international exhibitors and 66,000 trade visitors attended Intersolar Europe. The exhibition focuses on the areas of photovoltaics, PV production technologies, energy storage and solar thermal technologies. Since its founding, it has become the most important industry platform for manufacturers, suppliers, distributors, service providers and partners of the solar industry. The accompanying Intersolar Europe Conference consolidates the topics of the exhibition. In 2012, more than 400 speakers and around 2,000 attendees discussed current industry topics and shed light on the background of technological, market and political developments.
Intersolar's storied history of international exhibitions and conferences spans more than 20 years. In 2008, Intersolar North America in San Francisco became the second exhibition after Intersolar Europe. This was followed by Intersolar India in Mumbai, Intersolar China in Beijing and Intersolar South America in São Paulo.
Featured Product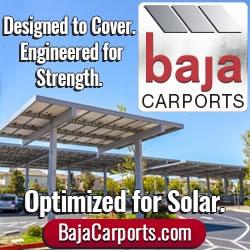 Baja Carports offers an extensive solar support system product line customized to customers' site specifications by in-house engineers, meeting their parking lot coverage, plus optimal PV production needs. Baja's Full Cantilever Tee is often paired with its Semi and Full Cantilever carports to meet live/loads up to 60psf and wind speeds to 160mph. All Baja products are pre-fabricated, bolted connections, pre-galvanized structural steel for fast on-site installation and project aesthetic requirements."