highlights of major findings from the June 2013 edition of the CSP Today Quarterly Update
Markets

The June edition of the CSP Today Quarterly Update reveals that in the next five to ten years the CSP capacity of the Middle East and Northern Africa is likely to surpass the 6 GW mark. Many of these projects, located in the UAE, Egypt, Morocco, Turkey, Jordan, Tunisia and Algeria are expected to release tenders and expressions of interests before the end of 2013 and early 2014, making it a busy third and fourth quarter for 2013.
The CSP Today Quarterly Update provides detailed analysis of twelve markets which have experienced the most change over the past quarter and are likely to remain central for the remainder of the year.
Latest developments
Coverage of the biggest developments since March 2013, including:
- ACWA's successful financial close of the 160 MW Ourzazate Project in Morocco and 50 MW Bokpoort CSP project in South Africa
- Jordon narrows selection of CSP developers for the Ma'an region to two candidates
- Shams 1 connects to the grid in Abu Dhabi becoming the world's largest operational CSP plant
Biggest questions:
- How bankable is the 25 GW allocation for CSP in Saudi Arabia?
- Will South Africa receive further allocations for CSP development before 2017?
- Fort Irwin, Rio Mesa, Hidden Hills: what impact will the suspension of these behemoth CSP projects have on the future of American CSP?
- Where to now for Spanish CSP?
Project Pipelines:
Detailed project pipelines for over 250 CSP projects around the world in 30 Markets.
Market Indicators:
The Quarterly Update also reveals that Tower will dominate the future CSP landscape with close to 6 GW in the early planning and development stages, compared to just over 4.5 GW for Parabolic Trough.
Special Report:
Which markets are the most likely to generate revenue in the next five years? CSP Today surveys 300 industry candidates to find out with some interesting results. Saudi Arabia, Chile, Morocco, the USA, India and South Africa top the list of countries expected to be the main revenue generators by 2018.
For more information, please contact:
Bea González
CSP Today
bea@csptoday.com
Featured Product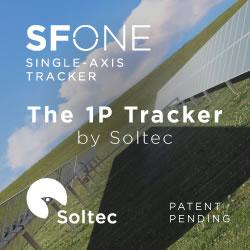 Soltec manufactures and supplies solar trackers designed and proven for extreme climate conditions, which is an ideal solution for any region's environment. Soltec's trackers are self-powered, requiring no additional PV module or grid-powered connection. Bifacial modules collect energy on both the front and rear sides, capturing reflected irradiance from the ground surface under and around the tracker and from other modules. Depending on site conditions, bifacial yield-gain can reach +30 percent.