San Jose, Calif. June 18, 2013 –Zhongli Talesun Solar, a global solar solutions company with the world's largest, fully automated solar module manufacturing facility, announced today its newly manufactured 60 and 72 cell polycrystalline and monocrystalline modules have received Underwriter Laboratories 1000V certification.

The new certification expands Zhongli Talesun Solar's product offering and supports customers' photovoltaic projects serving utility-scale and commercial segments with a higher voltage module that will lower installation costs and improve overall system performance.
"Zhongli Talesun Solar implements best in class practices in its manufacturing processes, and a higher-quality standard in its certifications. This latest addition, the new 1000V certification, demonstrates our commitment as a tier one provider to the U.S. market," said Eric Ma, USA General Manager.
Zhongli Talesun Solar's state-of-the-art manufacturing facility was reviewed by BEW Engineering in October of 2012 and one of their comments in the full report on the plant was, "The quality system implemented at Talesun's cell and module factory is best in class."
Zhongli Talesun Solar continues to expand its product offering to better serve its customer base. Visit Talesun Solar USA, a subsidiary of Zhongli Talesun Solar, at Intersolar North America, July 9-11 in San Francisco at the Moscone Center North, Level 1, Booth #7621 to see their latest product lines.
To learn more about Talesun Solar USA, visit their website at www.talesunUSA.com
About Talesun Solar USA
Talesun Solar USA, a subsidiary of global solar solutions company Zhongli Talesun Solar, consistently produces industry-leading quality, crystalline photovoltaic modules manufactured in the world's largest, fully automated production facility (2,260,000 square feet or the size of forty football fields). This systematic production process provides Talesun Solar customers with front runner price-performance ratios. Supporting its partners in the solar value chain, Talesun Solar also offers project development services, engineering support and financing. As an advancing solar leader, Talesun is dedicated to delivering exceptional sales support and customer service in the United States, Europe, South America, Japan, Australia and China. Zhongli Talesun Solar is a subsidiary of Zhongli Sci-Tech Group Co., Ltd., an international market leader in special cables, optical fiber cables and photovoltaic product manufacturing.
For more information on Talesun Solar USA, visit www.talesunusa.com
Featured Product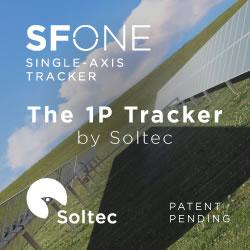 Soltec manufactures and supplies solar trackers designed and proven for extreme climate conditions, which is an ideal solution for any region's environment. Soltec's trackers are self-powered, requiring no additional PV module or grid-powered connection. Bifacial modules collect energy on both the front and rear sides, capturing reflected irradiance from the ground surface under and around the tracker and from other modules. Depending on site conditions, bifacial yield-gain can reach +30 percent.