Affordable wind energy financing options now available for US based residential, agricultural and commercial properties, backed by national track record, advanced wind analysis technology
Leasing Program Now Available for Distributed-scale Wind Turbines

FOR IMMEDIATE RELEASE
BOOTH #: 24
United Wind Unveils its Wind Turbine Leasing Program WindLease™ at Small Wind Conference 2013
Affordable wind energy financing options now available for US based residential, agricultural and commercial properties, backed by national track record, advanced wind analysis technology
(Stevens Point, WI) June 18, 2013 ó United Wind (www.unitedwind.com) today announced it will introduce WindLease™, its wind turbine leasing program for residential, agricultural, and commercial property owners, at the Small Wind Installers Conference 2013 in Stevens Point, WI on June 18th – 19th. WindLease™ provides affordable wind power options to property owners seeking to lower their monthly energy bills and gain independence from their utilities.
United Wind is the product of a merger between two industry leaders, Talco and Wind Analytics. Since 2000, Talco has grown to become the leading distributed-scale wind turbine distributor in the US, with a network of more than 100 dealers nationwide, as well as over 150 installations. Wind Analytics, founded in 2007, is the developer of the sole bankable wind analysis and financial modeling software designed for distributed-scale wind turbine projects, capable of accurately, quickly, and remotely estimating distributed-scale wind turbine energy production and financial benefits for a given site.
United Wind enables property owners to save money from day one with clean renewable energy, by leasing a distributed-scale wind turbine. Equipped with exclusive technology and decades of expertise, the company is prepared to lease a distributed-scale wind turbine to every suitable home and business in the United States.
"With WindLease™, property owners can begin generating affordable, clean renewable energy with little to no money down. United Wind handles all aspects of each installation including financing, permitting, and installation of the turbines, making it easier than ever to save money by utilizing wind energy," said Russell Tencer, Co-Founder and CEO.
Tal Mamo, United Wind's Co-Founder and President said, "I've been working hard over the past few years to help professionalize and bring real world solutions to the distributed-scale wind industry. Today I'm excited to announce the arrival of WindLease™, a solution which will enable millions of Americans to reduce their energy costs by utilizing their local wind resource, while creating American jobs and displacing the negative environmental impacts of traditional energy sources."
About United Wind
United Wind provides the ability to utilize clean renewable energy to property owners nationwide. The company is the leader in providing low-cost electricity through its unique WindLease™ program, which enables property owners to immediately save on their energy costs by leasing a distributed-scale wind turbine; as well as lock in their rates to protect against rising energy prices. Founded on the belief that the ability to utilize wind energy must be affordable to compete with conventional, less sustainable energy sources, United Wind provides customers with wind energy options that make sense for today and into the future.
Media Contact:
Rebecca Smith
858-272-8703
rsmith@unitedwind.com
###
Featured Product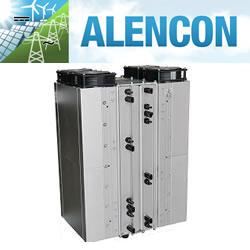 Alencon Systems is the premier manufacturer of high power, high voltage DC:DC optimizers for alternative energy applications including solar, battery energy storage, Microgrids, Fuel Cells and Electric Vehicle charging. Alencon's DC:DC converter offerings include the SPOT, BOSS and CUBE series DC:DC converters. The SPOT is a modular, uni-directional DC:DC solution ideal for solar applications. The BOSS is a modular, bi-directional unit for use with battery energy storage. The CUBE is a monolithic DC:DC converter which is available in both uni-directional and bi-directional modalities. Pictured above, is the Alencon SPOT.