EV pioneer Tom Gage and executives from BMW, Intercontinental Hotel, PG&E and Duke Energy among the speakers at ESNA, taking place September 10-12, 2013 in San Jose
California Public Utilities Commissioner Carla Peterman, who earlier this month issued a ruling proposing that the state's investor-owned utilities procure 1.3 gigawatts of energy storage by 2020, will deliver the keynote talk at Energy Storage North America (ESNA) Conference and Expo 2013 taking place September 10 - 12, 2013 in San Jose, California.

The ruling is a watershed moment in the energy storage market. In 2010, California passed a bill (AB 2514) that called for utilities to make grid-scale energy storage a critical part of the state's electrical power system. Commissioner Peterman's ruling provides a framework for achieving those goals. Energy storage will serve as a catalyst for the growing energy economy in the state as well as allow load serving entities to reduce their reliance on fossil-fuel based power plants, integrate more renewable sources of energy and minimize greenhouse gas emissions.
Commissioner Peterman will also speak on a panel with Cliff Rechtschaffen, Senior Advisor to Governor Jerry Brown, and Jim Avery, Executive Vice President of Power Supply at SDG&E, to discuss the anticipated impact of AB 2514.
"AB 2514 and the CPUC's ruling will have an impact that should be similar to the impact the Renewable Portfolio Standard (RPS) had on the renewable energy industry. Clear procurement goals will provide the necessary market signal for energy storage technology companies, developers and utilities to innovate, drive down costs and deploy energy storage commercially. California's experience will serve as a template for other states and countries to implement energy storage strategies, and puts California at the epicenter of what will be a multi-billion dollar market by 2020," said Janice Lin, Managing Partner of Strategen Consulting and Chairperson of the Conference.
Jointly organized by Messe Düsseldorf North America and Strategen Consulting, ESNA 2013 will be the first conference and exposition in the U.S. to focus exclusively on applications, customers and the emergence of an energy storage economy in the U.S.
Other highlights of the conference will include:
· Generating Revenue Through Storage. Harry Hobbs of Intercontinental Hotels will discuss the plans of the luxury hotel conglomerate to leverage storage assets in its energy strategy.
· Energy Storage and the City. California Public Utilities Commissioner Mike Florio, Praveen Kathpal, Vice President of Energy Storage at AES, and Jan Smutny-Jones of the Independent Energy Producers Association will outline the opportunities presented by Southern California Edison's plans to deploy up to 650 MW of storage in the LA basin.
· Increasing the Value of Renewable Energy with Storage. Jeff Gates of Duke Energy will discuss the critical role that diverse energy storage deployment will have for renewable energy.
· Hot Markets for Energy Storage in North America. Mark Rothleder, VP of Renewable Integration at the California Independent System Operator, Jose Luis Valenzeula, the former Advisor to the Governor of Puerto Rico and Mark Bruce, Chair of the Emerging Technology Working Group at ERCOT, will provide an overview of opportunities in a number of key North American markets.
· EV Charging Solutions: Electric Vehicle pioneer Tom Gage, Richard Steinberg, CEO of BMW's Drive Now car sharing program and Dana Hull of the San Jose Mercury News, among others will examine the challenges and opportunities for leveraging EV charging for grid support.
ESNA is also seeking nominations for the Conference's Innovation Awards. The awards will congratulate excellence and achievement in developing energy storage projects for utility scale, distributed and mobility applications. The Award Ceremony will take place at Energy Storage North America in the San Jose Convention Center on Sept 10, 2013. Nominations can be made on behalf of utilities, technology developers, project developers and teams of organizations. Submissions must be submitted to awards@esnaexpo.com by August 1, 2013.
ESNA 2013 is a companion conference to Energy Storage, whose second annual conference and exhibition, held earlier this year in Düsseldorf, Germany, attracted more than 530 participants and 45 exhibitors from 33 countries.
ESNA is supported by the global energy storage industry, including the following key partners: the Electricity Storage Association (ESA), the California Energy Storage Alliance (CESA), the Texas Energy Storage Alliance (TESA), the German Energy Storage Association (BVES), the China Energy Storage Alliance (CNESA) and the Indian Energy Storage Alliance (IESA), as well as Solarpraxis AG and Joint Venture Silicon Valley.
Featured Product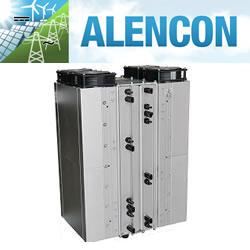 Alencon Systems is the premier manufacturer of high power, high voltage DC:DC optimizers for alternative energy applications including solar, battery energy storage, Microgrids, Fuel Cells and Electric Vehicle charging. Alencon's DC:DC converter offerings include the SPOT, BOSS and CUBE series DC:DC converters. The SPOT is a modular, uni-directional DC:DC solution ideal for solar applications. The BOSS is a modular, bi-directional unit for use with battery energy storage. The CUBE is a monolithic DC:DC converter which is available in both uni-directional and bi-directional modalities. Pictured above, is the Alencon SPOT.