Solar Impulse Plane Is Completing A Successful Trans-continental Flight
Washington, D.C. (June 20, 2013) –Washington DC – The pioneer pilots of the Solar Impulse who are currently completing a coast-to-coast solar-powered flight across America will be keynoting the first day of the Renewable Energy Finance Forum-Wall Street, announced the American Council On Renewable Energy (ACORE), the event co-host. Bertrand Piccard and Andre Borschberg, the pilots, will open the Forum on the first day at 9:00 am to talk about the importance of innovation and pioneer spirit to meet today's energy challenges.

"Solar impulse was not built to carry passengers, but to convey messages," said Bertrand Piccard. "We want to show what can be achieved using clean technologies. It's not only the environment that would be a winner. Job creation and purchasing power would also benefit from opening up these fascinating development perspectives."
"As a former naval aviator and test pilot, I find the success of the Solar Impulse flight quite remarkable," said Vice Admiral Dennis McGinn, President and CEO of ACORE. "What other form of flight uses no fuel? With 12,000 photovoltaic cells covering the Solar Impulse, the plane functions safely and reliably—even when the sun isn't shining--without any other type of fuel, making it the cleanest airplane to ever fly. But the plane is also an important demonstration of renewable energy's potential to fuel the world's transportation needs, and power our buildings and lives more cleanly and sustainably."
With its huge wingspan similar to a Boeing 747, and its proportionally tiny weight – that of an average car - the Solar Impulse plane presents physical and aerodynamic features never seen before, and which required the development of new materials and new construction methods. A lighter carbon fiber structure, the increased energy density of the batteries, the propulsion chain, flight instrumentation--everything has been designed to save energy, to resist the hostile conditions facing the airplane and pilot at high altitudes and to marry weight constraints with the required strength.
"To make this dream a reality, we had to make maximum use of every single watt supplied by the sun, storing any surplus in our batteries," said André Borschberg."We tracked down every possible source of energy efficiency. By tapping into each team member's experience and using the combined potential of them all, we managed to find the solutions."
The Solar Impulse successfully landed Sunday, June 16th outside the Nation's capital at Dulles International Airport, where they were met by Energy Secretary Ernest Moniz, ACORE Board of Directors Co-chair and Executive Director of the Steyer-Taylor Center for Energy Policy and Finance at Stanford University, Dan Reicher, and ACORE President and CEO, Vice Admiral Dennis McGinn.
The last challenge for Solar Impulse will be to reach New York by early July. André Borschberg will fly the final leg. The departure date will depend on weather conditions. The Swiss team of Solar Impulse scientists and pilots are planning a journey around the world in 2015 with a second-generation plane currently in development.
ABOUT REFF-WALL STREET
REFF-Wall Street is the premier renewable energy financing event in the U.S. The event draws an especially senior audience, comprising of over 600 senior decision makers, financiers and professionals in the renewable energy finance field including CEOs and other senior company officials, lenders, investors, investment bankers, private equity investors, venture capitalists and other top transactional professionals in renewable energy finance. For inquiries about REFF-Wall Street, contact Euromoney Energy Events.
ABOUT ACORE
ACORE, a 501(c)(3) non-profit membership organization, is dedicated to building a secure and prosperous America with clean, renewable energy. ACORE seeks to advance renewable energy through finance, policy, technology, and market development and is concentrating its member focus in 2013 on National Defense & Security, Power Generation & Infrastructure, and Transportation. Additional information is available at www.acore.org.
ABOUT EUROMONEY ENERGY EVENTS
Euromoney Energy Events, part of Euromoney Institutional Investor PLC, is a leading international events company that organises high-profile conferences for clean energy professionals worldwide. Their diverse portfolio of events brings together senior delegates from the renewable energy and cleantech industries with investors, financiers and other professionals. More information at Euromoney Energy Events.
ABOUT SOLAR IMPULSE
Swiss pioneers Dr Bertrand Piccard (Chairman) and André Borschberg (CEO) are the founders, pilots and the driving force behind Solar Impulse, the first airplane that can fly day and night without fuel. Solar Impulse is a unique adventure that aims to bring emotions back at the heart of scientific exploration, a flying laboratory to find innovative technological solutions for today's challenges and a vision to inspire each of us to be pioneers in our everyday lives.
This revolutionary carbon fiber airplane has the wingspan of a Boeing 747 (63.4m / 208 ft) and the weight of a small car (1,600kg / 3,527 lb). It is the result of seven years of intense work, calculations, simulations and tests by a team of about 80 people and 100 partners and advisors. A plane so big and light has never been built before. The 12,000 solar cells built into the wing provide four 10HP electric motors with renewable energy. By day the solar cells recharge the 400kg / 881 lb lithium batteries which allow the plane to fly at night.
Featured Product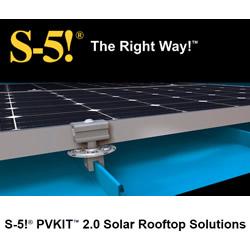 The concept of combining PV arrays with standing seam metal roofing is growing-for good reasons. Metal roofs have a life expectancy of more than 40 years. Shouldn't the mounting system last as long? With S-5! zero-penetration attachment technology and PVKIT 2.0, the solarized metal roof is the most sustainable system available -and without compromising roof warranties! PVKIT 2.0 is the also the best solution for attaching PV modules directly to any exposed fastener metal roof.