With the special cell connectors the new modules offer an additional increase in performance.
Oldenburg, Prenzlau, June 20, 2013. The solar manufacturer and distributor aleo solar AG presents its new high efficiency solar module with a current maximum power output of 290 watt. Due to a unique combination of module components, the improved aleo S_19 module can produce more electricity on the same surface area. The module contains monocrystalline CELCO solar cells from Sunrise Global Solar Energy Co. Ltd, one of the world's leading solar cell producers located in Taiwan. Anti-reflection glass, highly transparent embedding film and special cell connectors are further components used to improve the module output. These record modules have been certified by the German testing institute VDE.

"By using the CELCO cells from Sunrise we are able to produce solar modules in series with outstanding efficiencies of 17.6 percent calculated over the whole module area. Sunrise is currently the only cell supplier worldwide who can offer such high efficiency and reliable, high quality component for our aleo modules. With these power classes for 60 cell modules we are advancing into the highest power segment on the market and we are confident that further improvements will follow soon", said Guenter Schulze, CTO of aleo solar AG. The CELCO cells use the rear passivation and local contacting methods and are able to achieve efficiencies over 20 percent.
Sunrise CTO, Dr. Budi Tjahjono, explains, "Our highest power p-type mono cells are not only PID resistant, have an outstanding LID behaviour and a superior low light performance but also show a great temperature coefficient and excellent colour uniformity."
"We have been screening the market for a suitable supplier of mono cells for a while. Sunrise's quality and cost competitiveness clearly stood out from the rest. We are very satisfied to enjoy such a strong collaboration", said York zu Putlitz, CEO/CFO of aleo solar AG.
Sunrise CEO and Chairman, Kuei-Chang Hsu added, "With its strong know-how in production processes and quality, aleo solar is able to fully transfer the benefits from our CELCO cells into their modules. We are proud of the results of our cooperation which puts us both into a competitive market position."
In addition to the improved solar cells, aleo solar uses anti-reflection glass in its new modules that allows more light to penetrate into the module thanks to its thin coating on the glass surface. The EVA encapsulation film possesses better transparency properties, particularly in the ultraviolet spectrum. With the special cell connectors the new modules offer an additional increase in performance: the structured surface of the light harvesting string (LHS) directs more light to the solar cells.
About aleo solar
aleo solar AG produces and distributes premium solar modules and systems for the international photovoltaic market. Since 2009, the Bosch Group has owned a majority of the company (DE000A0JM634), which was originally founded in 2001 and has been listed on the stock exchange since 2006. The premium manufacturer currently has approximately 900 employees and is represented in the key photovoltaic markets all over the world. The aleo solar group has an annual production capacity of 280 megawatts at its plant in Prenzlau, Germany. The company generated a turnover of Ä 279.9 million in 2012.
About Sunrise
Sunrise Global Solar Energy develops, manufactures and markets high-efficiency solar cells worldwide for residential, commercial and utility-scale power plant customers. Sunrise high-efficiency solar cells generate significantly more power than conventional solar technologies. Sunrise, founded in 2007 by a team of solar technology pioneers, focuses on manufacturing premium cell products at cost-competitive prices. Sunrise's main factory is located in Yilan, Taiwan. For further information about Sunrise, please visit www.sunriseglobalsolar.com.
Featured Product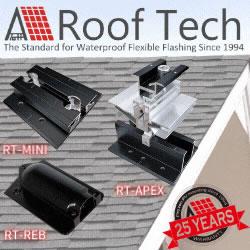 These ongoing webinars cover Roof Tech's background, product design (RT MINI and APEX), code and best practices. You will learn about a proven system that reduces installation time while keeping the integrity of the roofing system. This training will earn you one NABCEP Continuing Education Credit. The webinars are offered every Tuesday from 11 AM PDT to Noon during the months of April and May, 2020.