Online Auctions Deliver Price Discovery and Savings Against Backdrop of Rising Wholesale Electricity Rates
NEW LONDON, N.H. and WORCESTER, Mass., June 25, 2013

-- World Energy Solutions, Inc. (Nasdaq:XWES), a leading energy management
services firm, today announced it has helped Colby-Sawyer College
successfully procure more than 10 million kWh of electricity at a savings
over its prior contract, even as wholesale market prices had climbed.
Additionally, World Energy enabled Colby-Sawyer College to secure renewable
energy credits (RECs) for its entire energy purchase, greening its portfolio
at a discount.
Through a series of online auctions run on the World Energy Exchange(R),
Colby-Sawyer College tested various terms and products in a transparent,
objective manner. The competitive event attracted multiple suppliers,
delivering a winning price 8 percent below its prior contract, even as
wholesale rates had increased 11 percent. The auction also provided
essential price discovery that enabled the college to secure RECs through
World Energy, minimizing the premium the school paid for green power.
Delivery under the new 36-month contract begins in August.
"I had the pleasure of watching the World Energy auctions with members of my
team, and we were really impressed with the results," said Tom Galligan,
President of Colby-Sawyer College. "Bringing energy suppliers into a
competitive, real-time auction scenario like this makes so much sense. We
really got to see the market at work, and more importantly, working for us."
Added Doug Atkins, Vice President for Administration: "With a rise in
wholesale electricity rates since our last contract, we were fully expecting
to pay more for energy this time around. World Energy's terrific auction
process gave us an advantage in procuring our energy, and the savings it
yielded in this market speaks volumes for how effective and empowering their
process is."
By purchasing RECs for its entire electricity load, Colby-Sawyer College is
expected to reduce its carbon dioxide emissions by 2,554 metric tons each
year. This reduction is the equivalent of each of the
following:
-- Annual greenhouse gas emissions from 532 passenger vehicles
-- CO2 emissions from 286,362 gallons of gasoline consumed
-- CO2 emissions from 5,940 barrels of oil consumed
-- CO2 emissions from the electricity use of 382 homes for one year
(Source: EPA Greenhouse Gas Equivalencies Calculator)
Concluded Phil Adams, CEO of World Energy Solutions: "When it comes to our
auctions -- the way they are structured, the results they deliver and the
excitement they generate -- we have found that seeing is believing. I
couldn't be happier that the President of Colby-Sawyer and his team
experienced the auctions firsthand and are now strong proponents of the
process. It's also very satisfying to see colleges and universities in
growing numbers embracing our approach as the best way to get the most from
competitive electricity markets."
About Colby-Sawyer College
Colby-Sawyer College is a comprehensive college that integrates the liberal
arts and sciences with professional preparation. Founded in 1837,
Colby-Sawyer is located in the scenic Lake Sunapee Region of central New
Hampshire. Colby-Sawyer's goal of achieving a carbon-neutral campus by 2050
was established in its Climate Action Plan and approved by the college's
Board of Trustees on May 7, 2010.
Milestones along the way include a 50 percent reduction in emissions by
2015 (achieved in part in August 2010 with the college's first contract with
World Energy) and a 70 percent reduction by 2020. For more information about
Colby-Sawyer College, please visit www.colby-sawyer.edu.
About World Energy Solutions, Inc.
World Energy Solutions, Inc. (Nasdaq:XWES) is an energy management services
firm that brings together the passion, processes and technologies to take
the complexity out of energy management and turn it into bottom-line impact
for the businesses, institutions and governments we serve. To date, the
Company has transacted more than $40 billion in energy, demand response and
environmental commodities on behalf of its customers, creating more than $2
billion in value for them. World Energy is also a leader in the global
carbon market, where its World Energy Exchange(R) supports the Regional
Greenhouse Gas Initiative (RGGI), the first mandatory market-based
regulatory program in the U.S. to reduce greenhouse gas emissions. For more
information, please visit www.worldenergy.com.
Featured Product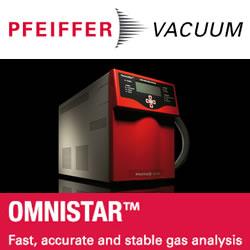 The Pfeiffer Vacuum OmniStar benchtop analysis system offers you a compact footprint, powerful software and Ethernet connectivity. It's the optimum solution for many real-time gas analysis applications. With the OmniStar, Pfeiffer Vacuum offers you a complete solution for gas analysis, in chemical processes, semiconductor industry, metallurgy, fermentation, catalysis, laser technology and environmental analysis. The turnkey OmniStar gas analysis system consists of heated, temperature-regulated gas inlet system, Quadrupole mass spectrometer, a dry diaphragm vacuum pump and HiPace turbopump. Unlike competing methods such as FTIR, OmniStar is suitable for qualitative and quantitative analysis of most gases.