Alternate Energy, Inc., released a timeline of solar power history in Hawaii showing the adoption of solar panels over time, notable events in Hawaiian solar history and the unveiling of several notable solar panel arrays.
Homeowners in Hawaii who are looking to install solar photovoltaic panels often ask us about our company's history. As one of the largest solar photovoltaic contractors in Hawaii, we have to admit that the changes in Hawaiian tax laws and incentives have played a large part in our success over the last 30 years.

To help explain some of the growth, both in our own company, and of solar power in Hawaii at large, we created a timeline showing notable events in Hawaiian solar history, from the change in adoption of solar panels over time, to the legal changes that have affected Hawaiian solar energy adoption.
At the link below, you can see the things that have happened from 1976 to today that have helped shape Hawaiian history with regards to solar panel installation. Enjoy!
Featured Product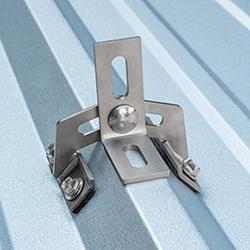 Error-Proof Compression: The QB2 doesn't leave any room for user error when it comes to Microflashing® compression. Once the Dual Drive Shoulder Screw is secured, the Microflashing® is compressed. Only 3 Components: The QB2 is comprised of Microflashing®, an L-foot and a Dual Drive Shoulder Screw. No more Nuts needed to tighten and secure the L-foot! Not only does this simplify the installation process, it also cuts down the installation time.