Policies | Technology | Finance 18-19 August 2013, Amman, Jordan
London, 28 June 2013

Green World Conferences is proud to launch the Solar Tech Expo MENA 2013 conference to be held on the 18th and 19th of August in Amman, an essential event for solar energy industry professionals. The conference is a part of our solar energy events held in a number of worldwide locations such as Argentina, Japan or the USA and will be conducted in English.
This strictly B2B conference, gathering solar energy executives, distributors, manufacturers, installers, lawyers and financial institutions, is supported by the Jordanian Government.
During two days, the Solar Tech Expo MENA 2013 conference and expo will feature 10 sessions focused on recent technologies and commercial market development of solar energy in the Middle-East North-Africa area.
A number of table-top exhibition stands will be prepared in the main networking area for leading solar energy companies to showcase their market proposals.
Delegates are geared up to gain exclusive insight into the very latest solar industry update, methodologies to advance the solar energy market in the MENA region as well as methods of mitigating risk and securing project finance for existing and future project.
The conference agenda will feature the following sessions:
Day 1:
Session I- Solar energy markets - focus on Jordan
Session II- Solar energy markets - focus on Saudi Arabia
Session III- Solar energy markets - focus on UAE
Session IV- Solar energy markets - focus on North Africa
Session V- Project finance and risk mitigation in solar energy projects
Day 2:
Session I- Solar projects development in Jordan- EPCs perspective
Session II- Solar energy technology showcase - Thin Film, PV and BIPV
Session III- Solar energy technology showcase - Energy storage for solar energy industry
Session IV- Solar energy technology showcase - CSP and HCPV
Session V- Solar energy technology showcase - Hybrid and organic photovoltaics
Over 40 acclaimed speakers have already been confirmed, including:
Mr. Hanna Zaghloul, CEO of Kawar Energy, Jordan
Mr. Shukri Halaby, CEO of Mustakbal Clean Technology, Jordan
Dr. Ennis Rimawi, Chairman of Millenium Energy Industries, Jordan
Mr. Ghaleb Al Sammak, CEO of Kingdom Electricity for Energy Investment, Jordan
Mr. Abdulrahman F.B. Al Yassen, General Manager Kuwait Solar Energy Engineering Company, Kuwait
Dr. Kamel Esseghairi, Executive director Arab Platform for Renewable Energy & Energy Efficiency, Tunisia
Dr. Michael Kremer, Legal Counsel of Emirates Solar Industry Association, UAE
Mr. Hatem Hamam, Regional Sales Manager, UAE
Mr. Iyad Zawadeih, Partner of Eversheds, UAE
Dr. Robert Flaesing, Coordinator KSA and Arabian Peninsula of the Desertec Foundation, Saudi Arabia
Mr. Allan Baker, Managing Director Global head of power advisory and project finance of Société Générale, United Kingdom
About Green World Conferences:
Since its official launch in April 2008, Green World Conferences have been successfully delivering conferences focused on the
renewable energy industry. Complimented by roundtables, trainings and field trips our events provide practical and specific
advice in all areas, helping drive improvement and development of participating companies. Organised in close cooperation with
leading renewable energy experts our conferences enjoy a strong reputation for their content and as business meetings between
buyers and sellers. Every year thousands of experts representing renewable energy companies, technology and service
providers, governments, finance providers and consultants attend our conferences. Suppliers use our conferences to generate
targeted sales and marketing opportunities.
For more information on this event, speakers, agenda and workshop, visit the website.
Featured Product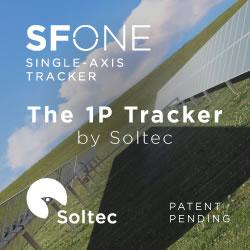 Soltec manufactures and supplies solar trackers designed and proven for extreme climate conditions, which is an ideal solution for any region's environment. Soltec's trackers are self-powered, requiring no additional PV module or grid-powered connection. Bifacial modules collect energy on both the front and rear sides, capturing reflected irradiance from the ground surface under and around the tracker and from other modules. Depending on site conditions, bifacial yield-gain can reach +30 percent.