New Partnerships Offer Wider Product Availability, Resources and Training
ROCKLIN, Calif., July 03, 2013—SMA America has expanded its recently launched distribution program with five leading distributors representing the residential, commercial and battery-based market segments. These partnerships will provide enhanced benefits to solar professionals while offering greater product availability.

Additional distributors include:
• Focused Energy
• Krannich Solar
• KYOCERA Solar, Inc.
• Proinso
• WESCO International
"SMA is pleased to complete its new distribution program with more industry leaders," said Henry Dziuba, president and general manager of SMA America and president of SMA Canada. "As with our other distribution partners, these organizations have a demonstrated commitment to supporting solar professionals by supplying quality products while also providing superior training and service."
SMA has started shipping several new products and the new distribution model ensures prompt product and service availability from these national distribution partners. Solar professionals benefit in a variety of ways, including faster delivery, as distributors carry increased warehouse stock. There also is improved service and support such as greater access to valuable technical resources.
To view the entire authorized SMA distributor list and to learn more about each distribution partner, solar professionals can visit SMA America's website and click "Where to Buy." A specially branded Authorized Distributor logo will help solar professionals identify SMA's partners.
About SMA
The SMA Group generated sales of €1.5 billion in 2012 and is the global market leader for solar inverters, a key component of all PV plants and, as an energy management group, offers innovative key technologies for future power supply structures. It is headquartered in Niestetal, near Kassel, Germany, and is represented internationally in 21 countries. The Group employs more than 5,000 people worldwide. SMA's broad product portfolio includes a compatible inverter for every type of module on the market and for all plant sizes. The product range includes both inverters for photovoltaic plants connected to the grid as well as inverters for off-grid systems. SMA is therefore able to provide ideal technical inverter solutions for all plant sizes and types. Since 2008, the Group's parent company, SMA Solar Technology AG, has been listed on the Prime Standard of the Frankfurt Stock Exchange (S92) and also in the TecDAX index. In recent years, SMA has received numerous awards for excellence as an employer and achieved first place in the nationwide "Great Place to Work®" competition in 2011 and 2012. www.SMA-America.com/www.SMA-Canada.ca
Featured Product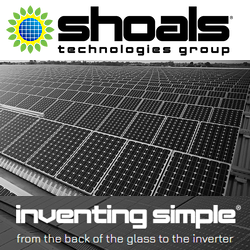 Inventing Simple® isn't just a slogan to us, it's a way of life. Using simple plug-and-play ideology, we revolutionized solar installations in 2003 with our Interconnect System™. Our harnessing system is now the gold standard EPC's use around the world. By using simple ideas, we are making solar energy a more affordable and clean power source for future generations.