RTS has been deployed at five commercial-scale solar power plants
SAN FRANCISCO and MENLO PARK, Calif., July 9, 2013 -- QBotix, which harnesses the power of robotics for the solar industry, today at Intersolar North America unveiled the SolBot R-225 and other enhancements for its Robotic Tracking System (RTS), a next generation system for optimizing the productivity of solar power plants.

The SolBot R-225 can manage 340 kilowatts of solar panels, a 13 percent improvement over the SolBot R-200. The SolBot R-225 is also smaller, lighter and requires fewer components than its predecessor. Additionally, the tracking rail for the SolBot R-225 consists of two preassembled pieces rather than multiple parts so it can be quickly snapped together on site.
"By reducing the number of moving parts in the SolBot, we have been able to boost the performance of the SolBot by a number of measures, which in turn will improve the performance of solar power plants. This is really a situation where less is more," said Wasiq Bokhari, CEO and founder of QBotix. "Solar is one of the fastest growing segments of the energy industry in nearly every market in the world. We're very proud to be able to help solar developers and power producers to lower the cost of solar energy."
To accommodate the broadest possible spectrum of customers, QBotix increased the flexibility and versatility of the communication network for the RTS so that it supports international and domestic frequencies and can coordinate and control the activities of multiple robots simultaneously.
With its robotic approach, RTS eliminates hundreds of stationary motors as well as substantial amounts of steel and concrete required in traditional solar power plants. So-called balance of systems expenses now account for 68 percent of the cost of solar installations.
QBotix debuted its technology in September 2012 and has enjoyed rapid commercial acceptance. In the first five months of 2013, RTS has been deployed at five commercial-scale power plants in California, Arizona, and Japan with a cumulative capacity of 200 kilowatts.
An RTS-based power plant with dual-axis tracking will typically generate up to 15 percent more electricity than a power plant built with conventional single-axis trackers, but cost similarly to build, giving QBotix customers dual-axis performance at single-axis pricing. An RTS-based power plant will generate up to 40 percent more electricity than a plant built with fixed-mount systems while lowering the levelized cost of electricity (LCOE) by up to 20 percent per kilowatt hour.
About QBotix. Based in Menlo Park, CA, QBotix employs distributed robotics to significantly increase the economics and improve the capabilities of the solar industry. Please see website at www.qbotix.com.
Featured Product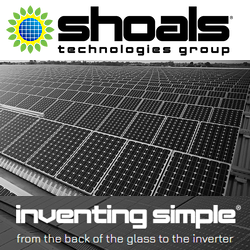 Inventing Simple® isn't just a slogan to us, it's a way of life. Using simple plug-and-play ideology, we revolutionized solar installations in 2003 with our Interconnect System™. Our harnessing system is now the gold standard EPC's use around the world. By using simple ideas, we are making solar energy a more affordable and clean power source for future generations.