July 9,2013

VANCOUVER, BRITISH COLUMBIA - Sky Harvest Windpower Corp. ("Sky Harvest" or the "Company") is pleased to announce that it has entered into an agreement to acquire a vertical axis wind turbine manufacturing and sales business from a private Canadian company in consideration of the issuance of 650,000 shares of its common stock, cash payments totalling $65,000, and the grant of an option to the vendor to acquire up to 550,000 shares of its common stock at a price of $0.10 for a period of five years. This grant is pursuant to the Company's previously announced 2011 Stock Option Plan. In addition, Sky Harvest has agreed to pay the vendor a royalty of $200 for every vertical axis wind turbine that it sells for a period of ten years. The vendor will also receive 500,000 voting shares of the subsidiary company that holds the turbine assets if that company's shares trade publicly on a recognized stock exchange or quotation system. As part of the agreement, Sky Harvest has acquired the intellectual property rights relating to the turbine design, and leasehold interests in both manufacturing facilities and equipment.
Sky Harvest has received written expressions of interest for the purchase of over 13,000 vertical axis turbines from parties in four different countries. The sale of such number of turbines would generate revenue of approximately $250 million. Sky Harvest has also entered into discussions with additional parties with compatible technology regarding the potential joint venture development of additional wind turbine products.
Unlike most wind turbines which have blades that rotate around a horizontal axis, a vertical axis wind turbine has blades that spin vertically around a horizontal mast. They are primarily used in remote areas to provide electricity to communication towers, mines, and communities that typically rely on diesel or propane for power generation, which results in reduced costs to the user, as well as a smaller environmental impact through the reduced use of fossil fuels and no risk of on-site diesel spills. These turbines are also suitable for rural areas of developing countries where grid infrastructure is minimal or non-existent. They can also be mounted near the upper portion of commercial smoke stacks and are powered by the updraft.
The principal advantages of a vertical axis wind turbine include low noise levels, minimal vibrations due to low RPM, the ability to utilize wind from any direction, ease of installation and maintenance, durability, and very low impact to wildlife. In addition, the Sky Harvest turbine is self-starting and begins to move at wind speeds as low as two meters per second and commence generating power at wind speeds of three meters per second. The additional advantages of the Sky Harvest turbine when compared to its competitors are its ability to withstand temperatures well below freezing and to operate without a driveshaft or gearbox.
In connection with the acquisition, Sky Harvest's President, William Iny, stated, "We are excited about the potential market for our vertical axis wind turbine given that there are many areas of the world where horizontal turbines are not feasible due to a lack of infrastructure or public resistance to large-scale projects. The initial interest that we have received from prospective customers is overwhelming and not only reflects the features of our turbine, but also the potential market for this type of product. Our Board believes that this manufacture-ready segment of our growing business will bring additional value to our shareholders. Through the development of highly engineered vertical turbines, our goal is to become the pre-eminent, reliable supplier to the telecommunications and remote community power generation sectors."
In addition to planned manufacturing and sales activities, Sky Harvest will also focus on further turbine research and development in order to introduce new products for commercial use. The company expects that this may include grant or joint venture opportunities with government entities, universities, and private corporations.
In connection with the acquisition, Sky Harvest has incorporated a wholly-owned subsidiary under the name "Sky Vertical Technologies Inc." ("Sky Vertical") that holds the assets and will undertake operations. Sky Vertical's initial Board of Directors consists of Kyle Loney and Harry Bauskin. Mr. Loney will act as the subsidiary's President and Chief Executive Officer while Patricia J. Shorr will act as the Chief Financial Officer.
Mr. Loney has acted as a project acquisition consultant to Sky Harvest since 2011. He holds an Economics degree from Union College in New York and has acted as Vice-President of Business Operations for the Ecogen Group of Companies, which aids clients with solar power project development. Ecogen's projects to date have involved over $300 million in capital costs. Mr. Bauskin and Ms. Shorr both act as directors of Sky Harvest since 2011.
Mr. Bauskin has extensive experience in the banking and investment sectors, including various positions with Bank Hapoalim, Israel's largest bank, over a 30 year period. These positions included acting as head of the bank's Toronto and Canadian divisions and head of the Investment Advice Division in Jerusalem.
Ms. Shorr has over 25 years of experience in the wind energy business. Since 1999, Ms. Shorr has acted as a principal of Spectrum Capital Corporation, a company that consults to wind and solar energy developers and is involved in the commercial mortgage brokerage sector. During the course of her career, Ms. Shorr has been involved in renewable energy projects, both completed and in development, with an estimated aggregate cost of approximately $950 million.
Sky Harvest further announces that it has granted stock options to consultants of the Company to acquire up to an aggregate of 500,000 shares of its common stock at a price of $0.10 for a period of five years. This grant is also pursuant to the Company's previously announced 2011 Stock Option Plan.
Sky Harvest invites shareholders and other interested parties to visit its website located at www.skyharvestwind.com or contact Sky Harvest at 604-267-3041 locally or toll-free at 1-877-700-7021.
Featured Product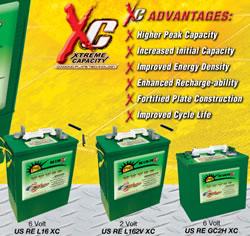 Our RE Series batteries are designed to provide the highest peak capacity, longest cycle life, and greatest reliability for use in industrial or residential renewable energy applications. Renewable Energy Series batteries utilize the company's exclusive XC2™ formulation and Diamond Plate Technology® to create the industry's most efficient battery plates, delivering greater watt-hours per liter and watt-hours per kilogram than any other flooded lead-acid battery in the market. Our Deep Cycle batteries are engineered to work with solar panels as well as other renewable energy applications.