Countdown to World Energy Congress 2013 in Daegu marked by official messages of support from Presidents of China and Korea
10 JULY 2013: With only 100 days left until the opening of the 22nd World Energy Congress in Daegu, Korea, more than 180 leading government officials, corporate executives and energy experts from 55 countries have already been confirmed to speak at the world's premier energy event.

The event will mark one of the biggest ever international gatherings of energy ministers in Asia, underscoring the importance of the Congress in addressing global energy issues.
President Xi Jinping of the People's Republic of China and President Park Geun-hye of the Republic of Korea pledged support to the Congress during their summit in Beijing on June 28.
The Congress has also recently been endorsed by the UN-sponsored Asian and Pacific Energy Forum and the Forum for East Asia-Latin America Cooperation.
Among senior government officials attending the Congress will be:
· Sultan Ahmed Al Jaber, Minister of State; CEO, Masdar, UAE
· Suhail Mohamed Al Mazrouei, Minister of Energy, UAE
· Hussain Al-Shahristani, Deputy Prime Minister for Energy, Iraq
· Saleh Alawaji, Deputy Minister of Electricity; Chairman, Saudi Electricity, Saudi Arabia
· Basile Atangana Kouna, Minister of Water Resources and Energy, Cameroon
· José Maria Botelho de Vasconcelos, Minister of Petroleum, Angola
· U Than Htay, Union Minister for Energy, Myanmar
· Ken Hughes, Minister of Energy, Alberta, Canada
· Elham Mahmoud Ahmed Ibrahim, Commissioner for Infrastructure and Energy, African Union, Ethiopia
· Bruno Kapanji Kalala, Minister of Hydraulic Resources and Electricity, DR Congo
· Isak Katali, Minister of Mines and Energy, Namibia
· Martin Kuba, Minister of Industry and Trade, Czech Republic
· Christine Loh Kung-wai, Under Secretary for the Environment, Hong Kong
· José Manuel Soria López, Minister of Industry, Energy and Tourism, Spain
· Onkokame Kitso Mokaila, Minister of Minerals, Energy and Water Resources, Botswana
· Sospeter Muhongo, Minister of Energy and Minerals, Tanzania
· Etienne Dieudonné Ngoubou, Minister of Petroleum, Energy and Hydraulic Resources, Gabon
· Alexander Novak, Minister of Energy, Russia
· Elizabeth Dipuo Peters, Minister of Energy, South Africa
· Ith Praing, Secretary, Ministry of Industry, Mines and Energy, Cambodia
· Federico Renjifo Vélez, Minister of Mines and Energy, Colombia
· Pavel Šolc, Vice-Minister of Energy and Industry, Czech Republic
· Walter Steinmann, State Secretary for Energy, Switzerland
· Jero Wacik, Minister of Energy and Mineral Resources, Indonesia
· Taner Yıldız, Minister of Energy and Natural Resources, Turkey
· Mike Underhill, Chief Executive, Energy Efficiency and Conservation Authority (EECA), New Zealand
· Sang-jick Yoon, Minister of Trade, Industry and Energy, Korea
· Youcef Yousfi, Minister of Energy and Mining, Algeria
The World Energy Congress was officially endorsed by the Presidents of the People's Republic of China and Republic of Korea at their recent summit meeting where the two leaders agreed to cooperate in the successful staging of the event in Daegu as part of bilateral efforts to promote regional and international partnerships. China supported Korea's bid to host the 22nd World Energy Congress when it was selected in 2008 and China is also expected to send one of the largest delegations to the Congress.
Lee Jong-ho, the Secretary General of the Congress Organising Committee, said:
"The 22nd World Energy Congress will be the biggest meeting of energy leaders this year and we are delighted that the Chinese government under President Xi Jinping has recognized the importance of the Congress to the global energy sector and voiced its support during the summit meeting with President Park Geun-hye."
Dr Christoph Frei, Secretary General of the World Energy Council, added:
"Preparations for this year's Congress are nearing their conclusion and the calibre of speakers, participants, guests and exhibitors is unparalleled. The world is facing an unprecedented series of challenges, at a time of increasing uncertainty, complexity and pace of change. Asia, the world's energy powerhouse, is the ideal location to map out the next steps that global leaders need to take in order to ensure a safe and sustainable energy future for communities around the world."
More than 250 companies have already confirmed their participation as sponsors and exhibitors or through sending large delegations to the Congress. A total of 5,000 participants from more than 100 countries are expected to attend. The Congress will provide a unique opportunity to network with key policymakers and business leaders in the global energy sector, while learning about future market trends. The WEC's three year study programmes highlighting energy scenarios to 2050, the world's available energy resources and energy policy rankings will all be unveiled along with reports from many others, including the IEA, during the four day event.
The number of prominent speakers is expected to grow in the weeks ahead. Senior executives from Royal Dutch Shell, Saudi Aramco, Gazprom, ConocoPhillips, Tokyo Gas, Woodside Energy and Pemex will address issues affecting the oil and gas sector.
Senior representatives from E.ON, Eletrobas, KEPCO, GDF Suez, Eskom, TEPCO, EDF Energy, Duke Energy and State Grid Corporation of China will share their visions about the future of the utilities industry. General Electric, Alstom, Areva, Westinghouse, ABB, Siemens, Suzlon, Schneider and IBM will discuss innovative energy technologies.
Leaders from the United Nations, as well as the heads of the IAEA, IEA, UNFCCC, IPCC, OPEC and the SE4ALL will join the leaders of development banks and organisations to engage with the business community to identify solutions to providing sustainable energy for all.
A full list of speakers is available on the Congress website at www.daegu2013.kr
Featured Product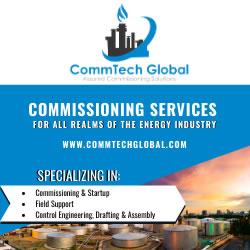 CommTech Global Solutions, LLC, provides professional and reliable commissioning services to customers in all realms of the energy industry. We blend our skills in engineering and technology with innovative business models, offering a complete range of services to assist you for a successful and in compliance operational startup. Consolidation of all our service domains gives our clients a comprehensive set of expertise and far-reaching experience on each project.