MicroPower Global's highly efficient semiconductor chips could provide a solution to Boeing's recent difficulties with overheating leading to fires on their aircraft.
(July 14 2013) – San Marcos, Texas – MicroPower Global, which is developing highly efficient semiconductor chips to generate electricity cheaply and safely from waste heat, offers an early solution to Boeing's battery problems, highlighted by the latest fire on one of its Dreamliner planes at Heathrow on Friday July 12.

"We have had quite a long relationship with Boeing," said Max Lewinsohn, Chairman of MicroPower, "primarily looking at the recovery of waste heat from the jet engines in flight, so as to provide electricity to reduce the dependence on batteries. Today, I think we could also provide an effective stand-alone power pack on the ground for aircraft needs, so as not to risk battery overheating and fires."
Mr Lewinsohn added, "Part of Boeing was very keen on waste heat recovery, and prepared a detailed report which foresaw sizeable economic benefits and reduced global carbon emissions, but it seems that senior management decided it was low priority. I think that decision needs to be reviewed in the light of today's circumstances. It might cost Boeing $10m to develop an effective solution with us, but that is peanuts compared to the potential damage from loss of confidence in the Dreamliner and fears about safety."
"MicroPower is a small company so we can't afford to develop the solution for Boeing free of charge, and our technical team in Texas is already stretched preparing samples for other customers. In fact, there is so much demand for sample chips (from different industries with huge waste heat losses) that we have to find to a way to help as many as possible."
"Of course this takes money, and apart from looking at traditional funding, we are launching a Crowdfunding campaign on Monday 15 July via the leading website Kickstarter in the US. This is a way in which many members of the public can participate, and, if they like what we are doing, they can pledge anything from as little as $10. All backers receive a modest reward depending on the size of pledge. It's an amazing new phenomenon which has helped to raise more than $600m for some 40,000 projects over the last three years".
Featured Product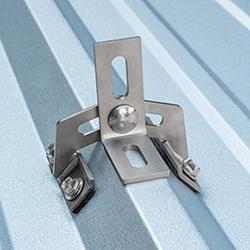 Error-Proof Compression: The QB2 doesn't leave any room for user error when it comes to Microflashing® compression. Once the Dual Drive Shoulder Screw is secured, the Microflashing® is compressed. Only 3 Components: The QB2 is comprised of Microflashing®, an L-foot and a Dual Drive Shoulder Screw. No more Nuts needed to tighten and secure the L-foot! Not only does this simplify the installation process, it also cuts down the installation time.