Customer engagement pioneer chosen for its innovative technology solutions that deliver effective customer outreach programs coupled with superior consumer value
San Francisco, Calif. – July 16, 2013 – PlanetEcosystems today announced that it is the recipient of the 2013 North American Green Excellence Award for Smart Grids from Frost & Sullivan. This award recognizes PlanetEcosystems' devotion to developing customer-centric programs that have long-term benefits to the environment, and also address the critical need for improving utility companies' interactions with residential customers.

Frost & Sullivan chose PlanetEcosystems because of its dedication to advancing the cause of long-term sustainability, in addition to the company's ability to develop and design an effective customer outreach program. To select the North American Green Excellence Award recipient, Frost & Sullivan's industry analysts conduct in-depth interviews and primary market analysis to find the company that demonstrates excellence in developing and offering innovative product, service, or technology solutions that address the concerns of climate change.
"Our research shows that PlanetEcosystems' approach is advanced and different from that of its competitors in the market. The company's core practice is to offer customized, smart, interactive customer outreach programs that center on promoting energy conservation," said Farah Saeed, energy and environment principal consultant for Frost & Sullivan. "The growing adoption and interest in PlanetEcosystems' offerings is a testament to the company's capability in addressing the unmet market needs. By strengthening customer engagement with its P-ECOSYS platform, utilities are also able to enhance their image as corporate citizens and retain the trust of their customers."
Steve Malloy, co-founder and senior vice president of PlanetEcosystems, added, "We're honored to receive this award from Frost & Sullivan. As utilities across the U.S. participate in grid modernization initiatives, they're seeing an increase in environmentally-savvy customers who want to be part of the solution while reducing costs. Solutions like our P-ECOSYS customer engagement platform give utilities and consumers the ability to work together to address energy efficiency issues in a cost-effective manner that benefit both."
About PlanetEcosystems
PlanetEcosystems' P-ECOSYS consumer engagement platform helps utilities and local governments reduce energy demand. It enables utilities and others to easily and automatically generate individually customized consumer action plans that motivate specific energy reduction behavior while saving consumers' money. PlanetEcosystems' patent-pending web tools also provide program managers with unique, economically-oriented data analytics capabilities that significantly enhance the effectiveness of energy efficiency program spending. This plug-and-play platform integrates all utilities – gas, water and electric – to provide specific recommendations for changing consumers' behavior to become highly energy efficient, while enhancing consumers' comfort. To learn more, visit www.planetecosystems.com.
Featured Product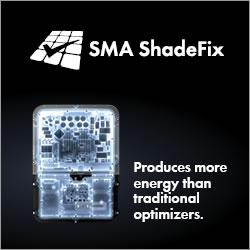 A recent university study showed SMA ShadeFix optimization produces more energy than traditional optimizers. It also utilizes far fewer components, reducing the need for costly service visits. Systems with ShadeFix optimization and SunSpec certified shutdown devices are the ideal solution for residential and commercial PV systems. Visit SMA's website to learn more and download the whitepaper.