Covers the rooftops of four buildings on the HCC campus and is expected to generate almost 1,200 megawatt hours of electricity in its first year of operation.
July 16, 2013

Urban Grid Holdings, a leading developer and financier of solar projects throughout the United States, has announced the completion of a 934-kilowatt solar installation at Harford Community College (HCC) in Bel Air, Maryland. Construction of the project was completed by Tecta Solar, a turnkey developer of commercial and utility scale solar photovoltaic (PV) projects with over 55 megawatts installed nationwide.
The solar installation, which includes 3,744 solar panels, covers the rooftops of four buildings on the HCC campus and is expected to generate almost 1,200 megawatt hours of electricity in its first year of operation. The system will produce enough electricity to power the equivalent of almost 130 average homes each year (EPA). The power will be used on campus by HCC.
Urban Grid arranged financing for the solar installation and negotiated the execution of a long-term Power Purchase Agreement (PPA) with HCC. The PPA allows HCC to purchase the electricity generated by the solar installation at a discounted rate compared to its current cost of electricity, providing the College with significant savings over the 20-year term. "Harford Community College is becoming a model for how institutions of higher education across the country are approaching their energy needs. Not only will this project provide significant cost savings and budget visibility for the College, but it also provides a unique educational tool for a broad range of academic programs," said Frank DePew, Principal and CEO for Urban Grid. "With this project, the leadership team at HCC has displayed their commitment to clean, renewable energy in Maryland and their dedication to providing unique learning opportunities for their students."
Tecta Solar was awarded the competitive tender for this project, arranged the PPA, undertook the roof securement and PV installation, and managed the design, engineering, procurement, construction and commissioning of the roof mounted project. "We really enjoy developing and building institutional/educational projects because there are so many people who benefit at the local level. In addition to the environmental benefits, the school immediately benefits from lower electricity costs. Local firms aided in design, permitting and installation, and each HCC student can benefit by learning about the system," said Robert Rabe, Director of Business Development for Tecta Solar.
"Solar Power Purchase Agreements are a great fit for colleges and universities, allowing us to achieve significant yearly savings on energy, unparalleled electricity rate predictability and visibility, and provide students a valuable hands-on educational tool," said Rick Johnson, VP of Finance, Operations, and Athletics for Harford Community College.
About Urban Grid:
Urban Grid Holdings, LLC is a leading developer and financier of solar PV projects throughout the United States. Urban Grid specializes in providing Power Purchase Agreements (PPAs) for projects ranging from 800kW – 5MW for commercial, educational, government and nonprofit organizations. With the goal of long-term project ownership, the company is committed to integrating high-quality solar PV projects with cutting edge technology, guaranteed performance, and a compelling return on investment. Urban Grid is headquartered in Stevensville, MD. For more information, please visit http://www.urbangridco.com.
About Tecta Solar:
Tecta Solar is a division of Tecta America Corp, the largest commercial roofing contractor in the US with over 40 offices and 3,000 employees nationwide. Tecta Solar has installed over 55 MW of solar nationwide and has a proven track record of installing solar projects for Fortune 100 companies, municipalities, large utilities, and public works projects. For more information, please visit http://www.tectasolar.com.
Featured Product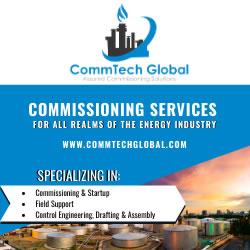 CommTech Global Solutions, LLC, provides professional and reliable commissioning services to customers in all realms of the energy industry. We blend our skills in engineering and technology with innovative business models, offering a complete range of services to assist you for a successful and in compliance operational startup. Consolidation of all our service domains gives our clients a comprehensive set of expertise and far-reaching experience on each project.