Bloom Energy Servers to provide continuous, reliable onsite electricity at predictable prices to office buildings, hospitals, data centers, government agencies and other large commercial enterprises
TOKYO and SUNNYVALE, Calif., July 17, 2013 -- SoftBank Group and Bloom Energy Corp. today announced the establishment of a 50/50 Joint Venture that intends to address Japan's urgent need for clean, reliable, and affordable electricity. The new company, Bloom Energy Japan Limited, will deploy Bloom Energy's unique, rapidly deployable Energy Servers to customers seeking to take control of their energy destiny while contributing to Japan's energy security, sustainability, and also to its economy.

The damage caused by the Great East Japan Earthquake, the incident at the Fukushima Daiichi Nuclear Power Plant and the subsequent closure of nuclear power plants have created a significant electrical power deficit in Japan. Subsequent energy imports have greatly expanded Japan's trade deficit while consumer electricity prices have recently risen by double digits.
Bloom Energy Japan was created to provide a reliable electricity alternative that is at once safe, clean, affordable, and compact, and provides electricity 24/7. With the establishment of this Joint Venture, SoftBank will add distributed baseload power from Bloom Energy and further encourages the domestic use of clean energy complementing its existing portfolio of renewable energy sources such as solar and wind.
"I am delighted that we are establishing this Joint Venture with Bloom Energy, an innovation leader in energy. By providing Bloom Energy's breakthrough technology through this new Joint Venture, SoftBank will further empower the adoption of innovative, clean energy," said Masayoshi Son, Representative and CEO of SoftBank.
"Empowering customers in Japan to buy electricity on their terms is another significant step on our journey to change the way energy is generated and consumed in the world," said Dr. KR Sridhar, Principal Co-Founder and CEO of Bloom Energy.
Bloom Energy has been generating power for customers in the United States, including Walmart, AT&T, Google, eBay, The Coca Cola Company, and many others, and has generated over 700,000,000 kilowatt hours of electricity over the last 5 years. By using the Bloom Energy Server, these companies can efficiently generate their own electricity on site, reduce their carbon and water footprint while lowering energy costs and mitigating power outage risks. The Bloom Energy Server has the ability to run on natural gas and biogas, provides unmatched efficiency in converting fuel to electricity and is easily deployed and maintained. Bloom's flexible, modular technology can be tailored in size to each customer's need.
About SoftBank:
SoftBank is a leading Internet company that aims to provide a range of services including mobile communications, broadband infrastructure, fixed-line telecommunications, Internet culture and others. SoftBank also encourages the use of clean energy. In October 2011, SoftBank Corp. established SB Energy Corp., a wholly-owned subsidiary which produces electricity from renewable energy sources with a view to encouraging the use and promotion of renewable energy across the nation.
For more information, please refer to http://www.softbank.co.jp/en/
About Bloom Energy:
The company was founded in 2001 with a mission to make clean, reliable energy affordable for everyone in the world. Bloom Energy Servers are currently producing power for many Fortune 500 companies including Google, Walmart, AT&T, eBay, Staples, The Coca-Cola Company, as well as notable non-profit organizations such as Caltech and Kaiser Permanente. The company is headquartered in the United States at Sunnyvale, California. For more information, visit www.bloomenergy.com
Featured Product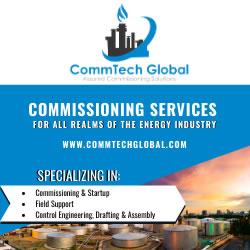 CommTech Global Solutions, LLC, provides professional and reliable commissioning services to customers in all realms of the energy industry. We blend our skills in engineering and technology with innovative business models, offering a complete range of services to assist you for a successful and in compliance operational startup. Consolidation of all our service domains gives our clients a comprehensive set of expertise and far-reaching experience on each project.