Program integration streamlines transition from wind resource measurement to analysis.
Aarhus, Denmark; Hinesburg, Vermont, U.S. July 18, 2013

Plant Solutions at Vestas Wind Systems, a developer of services for power plants, announced a new software compatibility with NRG Systems that enables complete wind resource analysis, from data collection to detailed energy projections. By using NRG Systems' WindPortal® and Vestas' WindData Explorer™ programs together, users can seamlessly process wind measurements in order to make strong project siting decisions.
WindPortal is a web-based fleet management tool for NRG Systems' turnkey Grand Symphonie™ resource assessment system. This software makes it simple for users to securely and remotely access a fleet status dashboard, as well as up-to-date wind measurement data for any site or component. With the click of a button, the data can then be imported into Vestas' WindData Explorer™ software for in-depth analysis.
"We're thrilled to expand the list of WindPortal-compatible software," said Michael Fisher, product manager for NRG Systems. "WindData Explorer is a powerful tool that will help our customers make the most accurate assessments."
WindData Explorer is a free suite of tools used to visualize, analyze and filter wind data. The system supports full traceability of all changes made to data and enables efficient sharing of knowledge through a standardized wind data format or PDF report. It offers automatic detection of all parameters in many logger files, including NRG Systems' Grand Symphonie.
"Wind data analysis should not be a black box," explained Lars Chr. Christensen, vice president of Plant Solutions at Vestas Wind Systems. "It should be a well-documented, transparent process. With WindData Explorer's recording and analytical capabilities combined with WindPortal's data accessibility, project siting is more straightforward than ever."
Vestas' WindData Explorer is now freely available to anyone with an interest in wind analysis. Download the software at http://www.winddataexplorer.com.
NRG Systems' WindPortal is included with all Grand Symphonie systems, and it is compatible with leading software. Learn more at http://gs.nrgsystems.com/, or visit http://www.windportal.com to register and test drive the software.
ABOUT VESTAS WIND SYSTEMS
Every single day, Vestas wind turbines deliver clean energy that supports the global fight against climate change. Wind power from Vestas' around 49,000 wind turbines currently reduces carbon emissions by over 60 million tons of CO2 every year, while at the same time building energy security and independence.
Today, Vestas has delivered wind energy in 73 countries, providing jobs for around 17,000 passionate people at our service and project sites, research facilities, factories and offices all over the world. With about 62 percent more megawatts installed than our closest competitor and more than 56 GW of cumulative installed capacity worldwide, Vestas is the world leader in wind energy. Learn more at http://www.vestas.com.
ABOUT NRG SYSTEMS
NRG Systems is an independently owned company that serves the utility-scale wind and solar energy industries. Its measurement systems, turbine control sensors, and Lidar remote sensors can be found on every continent in 150 countries, serving electric utilities, renewable energy developers, turbine manufacturers, consultants and research institutes. Celebrating over 30 years in business, the company has been nationally recognized for its LEED-gold manufacturing facilities and workplace best practices. For more information, visit http://www.nrgsystems.com.
Featured Product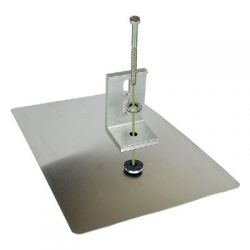 The GreenFasten™ - GF1 system utilizes the patented watertight technology EcoFasten Solar® is known for. The flashing is fit with our EPDM rubber bushing and when used with a compatible EcoFasten Solar compression bracket (milled with countersink), a watertight seal is created, which protects the integrity of the roof. Requiring just a single fastener (lag bolt or self-drilling), GreenFasten provides the fastest install in the industry and will not void roofing manufacturer's warranties. Backed by IAPMO certification, GreenFasten delivers a mounting solution for all new or existing (retrofit) composition shingle roofs, and is the most cost-effective solution available. Like all of the solar roof mount solutions in our line of products, GreenFasten is made in the USA using recycled materials.