Solar company utilizes Schletter Eco6 product line for its Innovative Frameless Modules.
July 20, 2013

Sunpreme® today announced the next step in its strategic growth initiative by adding Schletter to its list of preferred suppliers. This working relationship will provide Sunpreme with the technological advantage and solutions that provide multi-generational leadership in the solar renewable energy market.
"We are excited to have established a working relationship with Schletter," said Surinder S. Bedi, Executive Vice President for System Products, Market Development and Global Quality at Sunpreme. "This is an important step in our mission of providing our clients with solar technology that makes their business more energy efficient with guaranteed and reliable performance. Product innovation, world class reliability and safety are engineered early into Sunpreme products and components. Schletter has a robust and sophisticated module clamp for unframed modules and incorporating this innovation into our design process was a logical step, enabling us to maximize our value proposition."
Schletter supplies Sunpreme with its Eco6 end and middle module mounting clamps. "Schletter has been a technological leader in the development and testing of panel clamping methods for over 20 years. The mounting components we provide to Sunpreme are very specific and well suited for their high-quality laminate glass panel installations. We are very privileged to have Sunpreme as a global client in the solar photovoltaic space, and we look forward to a lasting and successful business relationship," said Ed Grover, Vice President of Business Development at Schletter Inc.
"As a leading supplier of PV mounting solutions worldwide, we are honored to be recognized as a strategic supply partner for Sunpreme. Schletter is committed to supporting Sunpreme and their customers with continued product research, innovative products and the highest level of customer service," says Martin Hausner, President and CEO of Schletter Inc.
ABOUT SCHLETTER Inc.
Schletter (http://www.schletter.us) has designed, developed, and manufactured solar mounting products in the U.S. since 2008, while backed with more than 20-years of solar mounting experience from Schletter GmbH. Since opening its United States facility in Tucson, Arizona, Schletter Inc. has manufactured more than 1 GW of installed PV mounting systems. Schletter Inc. offers products for roof mount and ground mount systems for residential, commercial, and utility scale photovoltaic systems. Schletter Inc. is an independent subsidiary of Schletter GmbH, which operates subsidiaries in eleven countries with more than 1,800 employees worldwide. For more information on Schletter GmbH, please visit http://www.schletter.de.
ABOUT SUNPREME Inc.
Sunpreme is a global solar photovoltaic (PV) company engaged in the business of design, development and manufacturing its proprietary SmartSilicon® based solar cells, and high reliability solar panels and systems to satisfy the growing global demand for abundant, affordable, and reliable clean energy. Sunpreme products are designed and engineered in the USA, and has manufacturing capability in China. It has deployed its solutions across the US and in India, China, Nigeria and Philippines. To connect with the company, please visit: http://www.sunpreme.com.
Featured Product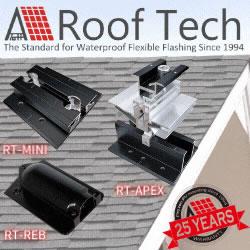 These ongoing webinars cover Roof Tech's background, product design (RT MINI and APEX), code and best practices. You will learn about a proven system that reduces installation time while keeping the integrity of the roofing system. This training will earn you one NABCEP Continuing Education Credit. The webinars are offered every Tuesday from 11 AM PDT to Noon during the months of April and May, 2020.