150 MW Project in Oklahoma has 2014 Target Completion Date
BROOMFIELD, Colo., July 22, 2013 -- Renewable Energy Systems Americas Inc. (RES Americas), a leader in the development and construction of wind and solar projects in North America, announced today that its subsidiary RES America Developments Inc. has reached a long-term agreement to sell 150 megawatts (MW) of wind energy to Arkansas Electric Cooperative Corporation (AECC).

The wind power will be sourced from the Origin Wind Energy project, which is located in Murray and Carter Counties in southeast Oklahoma. RES Americas developed and will construct the 75-turbine project, which is scheduled to begin commercial operation by Dec. 31, 2014. AECC will be the sole recipient of the electricity generated.
"We are delighted to work with AECC," said Tom Hiester, Senior Vice President of Development with RES Americas. "This purchase demonstrates AECC's forward-looking approach to diversifying their portfolio, as well as their understanding of the economic benefits that long-term, low-priced wind energy contracts offer to their members."
"The latest addition of 150 megawatts of low-cost wind energy provides AECC with a hedge against fluctuating natural gas energy prices," said Duane Highley, president and chief executive officer of AECC, a Little Rock-based wholesale electricity supplier. "AECC will have 201 megawatts of wind energy in its generation assets with this addition. We will continue to pursue energy options that allow AECC's member cooperatives to provide reliable electricity at the lowest possible cost."
AECC's agreement was made possible through the National Renewables Cooperative Organization (NRCO), which enables cooperatives nationwide to pool the ownership and benefits of renewable resources. "NRCO is pleased that AECC has contracted for additional wind resources," said Amadou Fall, CEO of NRCO. "NRCO members continue to diversify by including renewable generating capacity. They are doing so economically."
About RES Americas:
Renewable Energy Systems Americas Inc. (RES Americas) is a fully-integrated renewable energy company that develops, constructs, owns, and operates projects across North America. The company employs more than 275 full-time professionals working throughout North America, has a construction portfolio of more than 6,500 MW of renewable energy, and offers a full suite of development and construction services for wind, solar, and transmission projects. RES Americas' corporate office is located in Broomfield, CO with regional offices located in Austin, TX and Minneapolis, MN. RES Americas is part of the RES Group, a leading international renewable energy developer. For more information, please visit www.res-americas.com.
About The Electric Cooperatives of Arkansas:
The Electric Cooperatives of Arkansas comprise 17 electric distribution cooperatives; Arkansas Electric Cooperatives Inc. (AECI), a Little Rock-based cooperative that provides various services to the distribution cooperatives; and Arkansas Electric Cooperative Corporation (AECC), a generation and transmission cooperative. The distribution cooperatives provide electricity to more than 500,000 members, or customers, in Arkansas and surrounding states.
About NRCO:
Based in Carmel, Ind., the National Renewables Cooperative Organization (NRCO) works on behalf of member cooperatives to facilitate the development and acquisition of cost-effective renewable generation assets and assists members in diversifying their energy resource portfolios. For more information on NRCO, visit www.nrco.coop.
Featured Product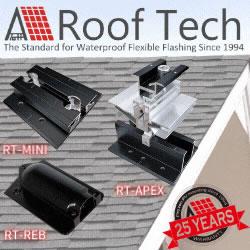 These ongoing webinars cover Roof Tech's background, product design (RT MINI and APEX), code and best practices. You will learn about a proven system that reduces installation time while keeping the integrity of the roofing system. This training will earn you one NABCEP Continuing Education Credit. The webinars are offered every Tuesday from 11 AM PDT to Noon during the months of April and May, 2020.