The #1Meeting Where Industry Leaders Gather to Develop the Next Wave Utility Scale Solar Projects
Woodland Hills, CA July 23, 2013

Infocast, the leading business intelligence and networking events producer in the solar industry, presents the 6th Annual Utility Scale Solar Summit, which will take place this September 24-26 at the Rancho Bernardo Inn in San Diego, CA.
This year's Summit will focus on the key trends impacting the utility scale sector and what they mean for the future of utility scale solar. With this backdrop, the Summit's timing is impeccable and provides an exceptional networking opportunity for industry players and the financial community to capitalize on new opportunities in this market, the next wave of utility scale projects, and preparing for a post-ITC era.
The Utility Scale Solar Summit has sold out the past three years and this year, is shaping to be even bigger with over 70 prominent speakers and hundreds of industry leaders in attendance. Over the years, the annual event has gained a reputation as the primary business hub where decision-makers come to move the utility scale solar sector forward. The Summit will provide attendees with a rare opportunity to connect with leading project developers, utilities, investors, lenders and other industry players to finance utility scale solar projects.
Past participants of the Summit include Chevron Energy Solutions, Duke Energy, GE Energy Financial Services, GE Solar Technologies, Hyundai Corporation USA, JPMorgan Capital Corporation, Morgan Stanley, Suntech America, Unisource Energy and more.
For more information, to register for the Summit, or to join us as a Sponsor, visit the event website at infocastinc.com/utility or contact Infocast at 818-888-4444.
About Infocast
Infocast is an event production company with over 25 years of solid industry experience, including a highly successful series of Finance and Investment Summits where industry players gather to share their perspectives on the finance and investment market, to establish relationships, network and conduct business.
Featured Product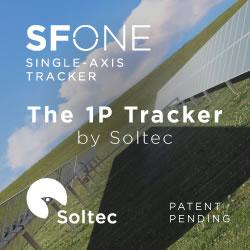 Soltec manufactures and supplies solar trackers designed and proven for extreme climate conditions, which is an ideal solution for any region's environment. Soltec's trackers are self-powered, requiring no additional PV module or grid-powered connection. Bifacial modules collect energy on both the front and rear sides, capturing reflected irradiance from the ground surface under and around the tracker and from other modules. Depending on site conditions, bifacial yield-gain can reach +30 percent.