"Near miss" could have been avoided with greater policy consistency
Official energy statistics published today by the Government [1] confirm that the UK has missed its indicative renewable energy target for 2011-12. Only the overall 2020 target is legally binding, but DECC will now be required to submit an amended national renewable energy action plan to the European Commission by 30th June next year, setting out measures to get the country back 'on track'.

REA Chief Executive Gaynor Hartnell said:
"This is a near miss. Had Government interfered less with its existing policies for biomass power, stuck to its timetable on the Renewable Heat Incentive, or laid out a clear framework for biofuels, then it would almost certainly have met its indicative target."
The 2011-12 UK figure is 3.94% of energy from renewables, 0.1% short of the indicative target of 4.04%. The majority of the EU-27 had already met their 2011-12 indicative targets by the end of 2011. According to the latest EUROSTAT data [2], the UK remains 25th out of the 27 EU Member States on the share of renewables in its heating system, power supply and transport fuels. The UK's 2020 target is one of the lowest across the EU-27 (15%), but given our low starting point, it requires one of the highest annual growth rates (16.5% year-on-year to 2020).
The REA is the UK partner for the EU-wide 'Keep on Track!' project, which assesses Member States' progress towards their 2020 targets [3]. The first 'Keep on Track' Tracking Roadmap report was published last month [4]. It revealed that the UK had missed its indicative '2011 NREAP target', but did not have the necessary data for the indicative '2011-12 RED target'. Now we do have this data, published today, it is clear that the UK is the only Member State which has failed to meet both indicative targets and which is expected not to reach its 2020 target.
The REA will continue its work with the 'Keep on Track!' project to identify and help overcome the barriers to the achievement of our 2020 target. The REA estimates that if the renewables industry expands sufficiently to meet the UK's 2020 target, it will sustain 400,000 jobs across the supply chain [5].
Featured Product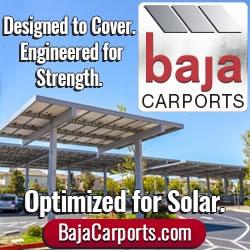 Baja Carports offers an extensive solar support system product line customized to customers' site specifications by in-house engineers, meeting their parking lot coverage, plus optimal PV production needs. Baja's Full Cantilever Tee is often paired with its Semi and Full Cantilever carports to meet live/loads up to 60psf and wind speeds to 160mph. All Baja products are pre-fabricated, bolted connections, pre-galvanized structural steel for fast on-site installation and project aesthetic requirements."