PSI's drop-in replacement inverter allows wind farms to supplement inventory with more efficient, longer-lasting technology while keeping turbines online
LIVONIA, Mich., July 30, 2013 -- PSI Repair Services, Inc., a subsidiary of Phillips Service Industries, introduced a new, cost-effective replacement today for obsolete Xantrex™ Matrix Inverters found in GE 1.5 MW S Series wind turbines. PSI's replacement inverter is a form, fit and function solution with advanced fault detection and higher efficiency parts than the OEM design. The drop-in replacement inverter allows wind farms to supplement their inventory with more reliable, longer-lasting technology while keeping their turbines online. PSI also offers repair services for Xantrex Matrix Inverters from GE 1.5MW S Series wind turbines.

"Several wind farm customers told us that they weren't getting any support for Xantrex Matrix Inverters from the OEM, so we challenged our engineers to come up with a solution," said Mike Fitzpatrick, General Manager of PSI Repair Services, Inc. "PSI takes great pride in offering innovative, cost-saving solutions for our customers in the wind energy industry."
As the leading independent service provider (ISP) in the wind energy industry, PSI Repair Services offers component repair and upgrade services for GE, Vestas, Siemens and Clipper wind turbines. PSI covers the critical electronic, hydraulic and precision mechanical components that drive the turbines' pitch and yaw systems and down tower electronics. PSI uses the latest diagnostic tools to detect failures down to the microchip level. Solutions can range from minor repairs to full replacement of printed circuit boards, with enhanced designs to improve performance and reliability. In other cases, PSI can replace inefficient OEM components with newer, more reliable technology or make modification improvements to the original design. PSI also provides comprehensive remanufacturing services for unsalvageable, obsolete components.
Additionally, PSI Repair Services recently launched a newly redesigned website, via www.psi-repair.com, with easy-to-follow navigation, informative content, and fast part search functionality. Other features include new, dedicated sections for Engineering Services and Part Surplus Services, as well as a customer-focused Blog that offers money-saving tips. The site also offers access to informative brochures and line cards via the new Downloads page.
For more information about PSI's wind energy services, visit www.psi-repair.com/repair-services/wind-turbine-parts-repair. You can also follow PSI Repair Services on Facebook, Twitter, Google+, LinkedIn and YouTube.
About PSI Repair Services, Inc. (www.psi-repair.com)
PSI Repair Services, Inc., a subsidiary of Phillips Service Industries and SDVOSB, offers the world's most complete range of repair and engineering services to resolve poorly performing electronics, hydraulics, robotics and precision mechanical assemblies. We combine the best diagnostic equipment in the world with the most skilled engineers and technicians in the industry to resolve performance problems that others simply can't. In addition, PSI offers emergency services and stock thousands of surplus parts to help customers get their critical production equipment back up and running again. PSI Repair Services was established in 1967 and proudly serves a wide range of industries and markets like automotive, aerospace, defense/military, food and beverage, healthcare, public transportation, semiconductor and wind energy.
About Phillips Service Industries, Inc. (www.psi-online.com)
Established in 1967, Phillips Service Industries, Inc. (PSI) is a privately-held, service-disabled, veteran-owned small business (SDVOSB) that oversees a diverse collection of innovative subsidiaries. We serve a wide range of high-tech industries like aerospace, defense, automotive, alternative energy, healthcare, security and semiconductor. Our award-winning products and services help reduce costs and maximize efficiency for many Fortune 500 companies around the globe, as well as the U.S. military. We push the bounds of technology on critical programs like Homeland Security, Defense research and space exploration, delivering innovative solutions for land, sea, air and space. We're PSI: Always innovating. Everywhere.™
Featured Product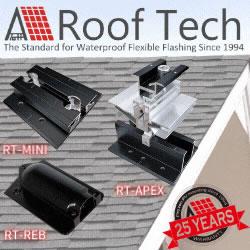 These ongoing webinars cover Roof Tech's background, product design (RT MINI and APEX), code and best practices. You will learn about a proven system that reduces installation time while keeping the integrity of the roofing system. This training will earn you one NABCEP Continuing Education Credit. The webinars are offered every Tuesday from 11 AM PDT to Noon during the months of April and May, 2020.