The new system is reducing the runtime and fuel costs to power the Costilla Lodge at Vermejo Park Ranch.
ALBUQUERQUE, NM – August 6, 2013 – 310 Solar Energy recently announced the installation of a Photovoltaic Solar Power Plant with Turner Enterprises, Inc. at Vermejo Ranch in Northern New Mexico. Built at 10,200 feet, the 56.16k-watt photovoltaic generating plant with battery storage and generator backup is among the top 10 in the nation in size and scale. The new system is reducing the runtime and fuel costs to power the Costilla Lodge at Vermejo Park Ranch.

"The new system harvests energy from the sun and stores it in the batteries for overnight power supply," explained Glenn Gallipoli, 310 Solar Energy President. "Because the energy harvest depends on direct sunlight, the diesel generator is on stand by to charge the batteries during cloudy days."
Turner Enterprises is committed to promoting the use of clean energy and has taken several significant steps in moving from fossil fuels to renewable energy sources in hopes that others will follow suit. "It was an honor for us to design a system for Costilla Lodge," Gallipoli added. "The Lodge has always been off the electric grid, and now it is almost completely off fossil fuels for the generators that have historically powered it. Our companies have similar missions, so together we have developed a project that is of national significance."
"The Costilla Lodge solar project was challenging due to the altitude, remote location and engineering difficulties involved in providing adequate solar power to a modern Lodge in the high country," said Vermejo Park Ranch Manager Mark Kossler, "310 Solar Energy addressed these challenges and provided us with a functioning system allowing us to go from running our generators 24-hours a day, to shutting them down for 90% of the summer. We are very pleased with the outcome of this project."
Vermejo Park Ranch is one of the West's premier hunting, fishing and eco-tourism resorts. Vermejo offers an unparalleled opportunity to hunt, fish and explore the largest tract of privately owned property in the West. The newly-built (2011) Costilla Lodge was constructed using the Ranch's own timber and stone and has received a LEED (Leadership in Energy and Environmental Design) Silver rating by the US Green Building Council. Located twenty-five miles from the main complex, the spacious lodge is known for its excellent hunting, fishing, and nature tourism venues.
For more information go to 310solar.com and tedturner.com.
Featured Product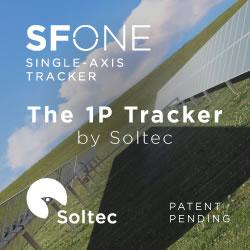 Soltec manufactures and supplies solar trackers designed and proven for extreme climate conditions, which is an ideal solution for any region's environment. Soltec's trackers are self-powered, requiring no additional PV module or grid-powered connection. Bifacial modules collect energy on both the front and rear sides, capturing reflected irradiance from the ground surface under and around the tracker and from other modules. Depending on site conditions, bifacial yield-gain can reach +30 percent.