Deal Offers Several Ways for Drivers to Pay
Norcross, Ga./Sacramento, Calif. (August 2013) – Sacramento residents who drive electric vehicles (EVs) will soon have another way to power up. Efacec has been selected by the Sacramento Municipal Utility District (SMUD) to supply DC Fast Chargers.

Efacec's QC50 Fast Chargers can charge an electric vehicle in under 30 minutes, compared with Level 1 and Level 2 AC chargers, which can take several hours. SMUD expects to install the Efacec chargers at its Sacramento headquarters, and in more locations to be named soon. The general public, as well as SMUD employees, will be able to use them.
"Efacec DC Fast Chargers are already in use in Palo Alto and Chicago as well as in countries around the globe," said Jorge Guerra, Efacec's Chief Operating Officer for North America. "We look forward to serving the citizens of Sacramento as well." The chargers are made in America at Efacec's U.S. headquarters in Norcross, Ga.
There are two predominant types of DC Fast Chargers in the U.S. today.
*CHAdeMO works with Japanese cars including Nissan and Mitsubishi.
*The newer SAE J1772 Combo type services only one car now available in the U.S.: the Chevrolet Spark EV. BMW and Volkswagen plan to release vehicles in 2014 capable of accepting this type of DC fast charge.
Efacec's QC50s, which are CHAdeMO certified, can be upgraded to include the SAE Combo connector as well. This means the Efacec chargers will be able to serve all DC Fast Charge capable electric plug-in vehicles available in the U.S.
Thanks to an agreement with SemaConnect and its SemaCharge network, EV drivers will be able to pay for the charging service by swiping a credit card, using a smartphone app, calling an 800 number or visiting a website.
Mahi Reddy, CEO of SemaConnect said, "We're thrilled to partner with Efacec in providing a robust solution for electric vehicle charging to the residents of Sacramento. The combination of fast charging equipment from Efacec and SemaConnect's network will dramatically enhance the prospect of electric vehicles as a viable transportation option for Sacramento's drivers."
About Efacec
Group Efacec, formed in 1948, is a leader in the field of electricity. Based in Portugal, it employs more than 4,600 people in 65 countries. Efacec has been serving U.S. customers since 1998. In 2007, Efacec established its headquarters for North America in Norcross, Ga. Its North American operations include three companies: Efacec USA, Inc., Efacec Power Transformers, Inc., and Efacec Advanced Control Systems, Inc. (ACS.) More information is available at www.efacecusa.com.
About SemaConnect
SemaConnect is a leading developer and producer of smart networked electric vehicle (EV) charging stations and sophisticated electric vehicle software for station owners and EV drivers. The company launched in 2008 with the first ChargePro™ 620 edition, and EV software called SemaCharge. SemaConnect is quickly becoming the fastest growing EV charging company in the United States. More information is available at www.semaconnect.com.
About SMUD
As the nation's sixth largest community-owned electric service provider, SMUD has been providing low-cost, reliable electricity for more than 65 years to Sacramento County (and a small portion of Placer County). SMUD is a recognized industry leader and award winner for its innovative energy efficiency programs, renewable power technologies, and for its sustainable solutions for a healthier environment. SMUD is the first large California utility to receive more than 20 percent of its energy from renewable resources. For more information, visit smud.org.
Featured Product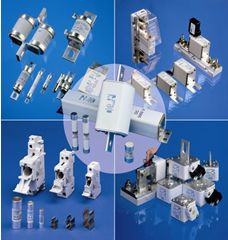 SIBA Fuses: your trusted source for all your circuit protection applications, from solar power to wind power. We are the world leaders in these applications and the most trusted name for your circuit protection needs. We have been working for over 60 years in semiconductor fuses, including ULTRA RAPID®, medium, and high voltage, standard European, miniatures, electronic fuses, and a wide range of DC rated fuses (24 VDC - 5000 VDC) for all types applications. We work with medium and high voltage fuses for protection of transformers, including submersibles, motors, medium and high voltage switchgear, compact substations, cable feeders, and high voltage capacitor circuits. New: Full line of PV UL Listed fuses and fuse holders. View our Catalog.