The solar plant has been developed and is being built by California based Cenergy Power, a leading integrator of solar power systems.
Shanghai, China – JinkoSolar Holding Co., Ltd., a leading global solar PV power product manufacturer, today announced that it has supplied 2.2 MW of high-efficient solar PV modules to HMC Farms, which will span across 390,000 square feet of ground space and enable HMC to significantly hedge against rising electric utility charges on two cold storage and packaging meters. The solar plant has been developed and is being built by California based Cenergy Power, a leading integrator of solar power systems.

HMC Farms, a vertically integrated grower, shipper and packer of peaches, plums, etc., selected JinkoSolar's module for its high efficiency and long-term sustainability. The giant ground mounted solar system is designed to produce over 3.4 million kWh of energy annually, which will reduce the plant's energy needs by 68% and provide an attractive 4-year unlevered return on investment.
"We believe that economically sound sustainability initiatives make tremendous business sense and we're excited to move forward with JinkoSolar and Cenergy Power on our large solar project," says Michael Toms, Chief Operating Officer of HMC Farms. "In addition to the strong financial benefits, we feel great about the environmental attributes associated with the solar system. According to data from Environmental Protection Agency (EPA), the clean energy generated by our solar farm will be equivalent to the carbon sequestered by 2,000 acres of forests annually."
About JinkoSolar
JinkoSolar is a leading solar PV power product manufacturer with production operations in Jiangxi and Zhejiang Provinces in China and sales and marketing offices in Shanghai and Beijing, China; Munich, Germany; Bologna, Italy; Zug, Switzerland; San Francisco, the United States; Queensland, Australia; Ontario, Canada; Singapore ; Tokyo, Japan and Cape Town, South Africa.
JinkoSolar has built a vertically integrated solar product value chain with an integrated annual capacity of approximately 1.2 GW each for silicon ingots and wafers, solar PV cells and solar PV modules as of December 30, 2012. JinkoSolar distributes its photovoltaic products to a diversified customer base in the global PV market, including Germany, Italy, Belgium, Spain, the United States, France, Eastern Europe, China, India, Japan, South Africa and other countries and regions.
About Cenergy Power
Cenergy Power (www.cenergypower.com) is a leading solar integrator focused on delivering unmatched solar value in the large commercial and small utility markets across the United States. It is comprised of seasoned professionals in the areas of power engineering, construction management and project financing.
About HMC Farms
Founded in 1987 by Harold McClarty and Mike Jensen, HMC (www.hmcfarms.com) is a vertically integrated grower, shipper, packer of peaches, plums, nectarines and table grapes. With a growing global operation in California, Mexico, Peru and Chile, HMC delivers fresh produce all year round. In addition to HMC's dedication to great-tasting fruit and safety, the company is committed to sustainability with the latest technology and environmentally-friendly practices.
Featured Product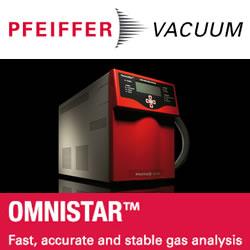 The Pfeiffer Vacuum OmniStar benchtop analysis system offers you a compact footprint, powerful software and Ethernet connectivity. It's the optimum solution for many real-time gas analysis applications. With the OmniStar, Pfeiffer Vacuum offers you a complete solution for gas analysis, in chemical processes, semiconductor industry, metallurgy, fermentation, catalysis, laser technology and environmental analysis. The turnkey OmniStar gas analysis system consists of heated, temperature-regulated gas inlet system, Quadrupole mass spectrometer, a dry diaphragm vacuum pump and HiPace turbopump. Unlike competing methods such as FTIR, OmniStar is suitable for qualitative and quantitative analysis of most gases.