Top PV Module Suppliers Grab Market Share Gains but Also Target Additional Cost Reductions
SANTA CLARA, CALIF., August 12, 2013ó Quarterly solar photovoltaic (PV) module shipments for the 20 leading PV manufacturers exceeded 5.8 gigawatts (GW) during the second quarter of 2013 (Q2'13). This record-high module shipment volume represents 21% growth from the Q2'12 level of 4.8 GW, according to findings in the new NPD Solarbuzz Module Tracker Quarterly.

When the final results become available over the next few weeks they are expected to show that Chinese tier-one manufacturers, including Yingli Green Energy, Trina Solar, Jinko Solar, Renesola, and Hanwha SolarOne broke their quarterly module shipment records in Q2'13. In particular, Yingli Green Energy's quarterly shipments are expected to have reached 0.8 GW, which would represent a new world record for any single PV supplier.
"Yingli Green Energy has been strongly focused on market share gains over the past four quarters," said Ray Lian, senior analyst at NPD Solarbuzz. "The company is rapidly approaching 10% global market share, and has now become the clear leader in megawatt shipments. The leading solar PV suppliers are now starting to pull away from the pack, which provides strong evidence that the anticipated industry consolidation is finally in progress."
However, setting new records in shipments is not the only tactic being employed. Some module suppliers are prioritizing profitability over market share, resulting in only moderate shipment increases for Q2'13. Priorities for this subset of suppliers include downstream project expansions or market share gains in only premium-price regions.
In Japan, the highest growth PV end-market today, Chinese tier-one manufacturers Canadian Solar and JA Solar have now become the leading overseas module suppliers. However, buyers in Japan remains strongly loyal to Sharp Solar, Kyocera, Solar Frontier, Panasonic, and other domestic brands. Over the past four quarters, these four suppliers have accounted for 54% of modules shipped by the 20 leading module suppliers to Japan.
For more information about NPD Solarbuzz Module Tracker Quarterly, contact us at one of our seven global locations, email us at contact@solarbuzz.com, or call Charles Camaroto at 1.516.625.2452 for more information.
About NPD Solarbuzz
NPD Solarbuzz, part of The NPD Group, offers North America PV Markets Quarterly, Marketbuzz, Solarbuzz Quarterly, and other upstream and downstream photovoltaic (PV) market quarterly reports, providing the solar energy and PV industries with global historical and forecast data for the PV supply chain. For more information, visit www.solarbuzz.com or follow us on Twitter at @Solarbuzz.
About The NPD Group, Inc.
The NPD Group provides global information and advisory services to drive better business decisions. By combining unique data assets with unmatched industry expertise, we help our clients track their markets, understand consumers, and drive profitable growth. Sectors covered include automotive, beauty, consumer electronics, entertainment, fashion, food/foodservice, home, luxury, mobile, office supplies, sports, technology, toys, and video games. For more information, visit www.npd.com and npdgroupblog.com. Follow us on Twitter: @npdtech and @npdgroup.
NPD Solarbuzz and Marketbuzz are registered trademarks of The NPD Group.
Featured Product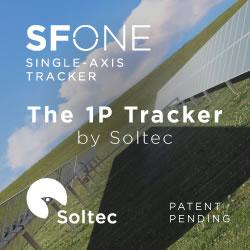 Soltec manufactures and supplies solar trackers designed and proven for extreme climate conditions, which is an ideal solution for any region's environment. Soltec's trackers are self-powered, requiring no additional PV module or grid-powered connection. Bifacial modules collect energy on both the front and rear sides, capturing reflected irradiance from the ground surface under and around the tracker and from other modules. Depending on site conditions, bifacial yield-gain can reach +30 percent.