Renewable Energy in an "All-of-the-Above" World
Austin, TX, August 13, 2013 – Fundamental shifts in how our communities generate energy are happening globally. The grid and resources that supply energy nationwide are in a state of flux creating uncertainty, room for new development and opportunity for economic expansion. There are few places where this is more relevant and apparent than in San Antonio, Texas the location of Texas Renewables 2013 conference and exhibit. Texas Renewables 2013 will bring elements of the Texas market together to reveal the moving parts of the system and how the industry is dynamically responding to these changes. The conference will provide a solid understanding of the forces at play to further the vision of an "All-of-the-Above" energy world and discuss strategies to sustain continued growth for Texas energy providers as a whole.

"When asked what their position is on meeting our energy needs many policy makers are saying we need 'all-of-the-above,' said Russel Smith, TREIA Executive Director. "Texas Renewables 2013 will explore what that really means in political circles and what opportunities the renewable energy industry might find in a marketplace guided by that philosophy. San Antonio is the perfect host city to illuminate these opportunities."
Texas Renewables 2013 will take place November 11 – 13 at the Omni Colonnade, 9821 Colonnade Blvd, San Antonio, TX. Expect a fast paced conference designed to actively engage inspire and inform. While building on last year's successful TED talk style this year's conference will add more informative panels, keynotes and roundtables on topics including:
· *Renewable Energy Opportunities Related to Fossil Fuels
· *How Renewable Energy Can Revitalize Rural Communities
· *Renewable Energy Opportunities with the Defense Community
· *Innovative Renewable Energy Policies and Projects Across the State
Additionally the conference will cap each day with insights from outstanding CEO panels:
· *Utility CEO Panel on Tuesday
· *Energy Industry CEO Panel on Wednesday
The conference continues to be a catalyst for new strategies while providing a venue for forming valuable business-to-business alliances, networking and discovering the latest business opportunities. Texas Renewables 2013 conference is a must-attend event for renewable energy industry professionals, utility executives, investors, entrepreneurs, engineers, activists, and policymakers.
For close to 30 years Texas Renewables Conferences have been organized annually by Texas Renewable Energy Industries Association (TREIA) which represents hundreds of member companies, organizations, agencies and individuals providing products, services and information within Texas's growing renewable energy sector. Founded in 1984, TREIA is a key trade and advocacy organization headquartered in Austin, Texas. TREIA http://www.treia.org/ is the oldest renewable energy non-profit trade organization in Texas whose work promoting development of renewable resources and their wise use has spanned a quarter of a century. For more conference information on Texas Renewables 2013 go to www.TexasRenewables.org or call 830-456-1341.
Featured Product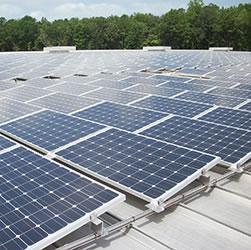 The Power Rail™ Commercial Mounting System is designed with the professional PV solar installer in mind. Both the XD/UD and LD/MD rails feature single tool assembly with the revolutionary patented RAD™ Lock-in-Place bolt for fast and secure module clamping. The high strength marine-grade aluminum rails include an integral wiring channel for securing cables and providing a professional finish.