Updates on China's Nuclear New Build Projects
In the 1980s, China drew the outline of nuclear technology route which combined the "Introduction" and "Localization" together. Forty years has passed now, China has turned out to be an enormously diverse country with several kinds of nuclear reactor technologies from US, France, Russia, Canada. However, China took a new look at the nuclear market after the Fukushima disaster which strongly pushed China to seek the safety solutions from 3rd Gen technology.

So far, there are several 3rd Gen reactor types including AP/CAP, EPR, ACP1000, ACPR1000+ existing in the china nuclear markets, which caused tremendous impacts on the nuclear equipment suppliers. Due to the different nuclear standards and regulations, the equipment suppliers are now trapped into an awkward predicament.
Based on the previous success, the 5th Annual Nuclear New Build China Summit 2013 (NNBCS) will convene on December 12th -13 th .More than 30 authoritative experts and 200 leaders from nuclear operators, EPC companies, designing institutes as well as equipment suppliers will come together and discuss on how to improve the quality and accelerate the localization progress of 3rd Gen nuclear technology equipments!
Featured Product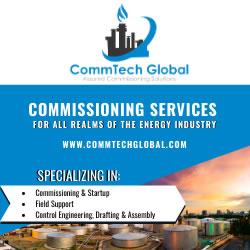 CommTech Global Solutions, LLC, provides professional and reliable commissioning services to customers in all realms of the energy industry. We blend our skills in engineering and technology with innovative business models, offering a complete range of services to assist you for a successful and in compliance operational startup. Consolidation of all our service domains gives our clients a comprehensive set of expertise and far-reaching experience on each project.